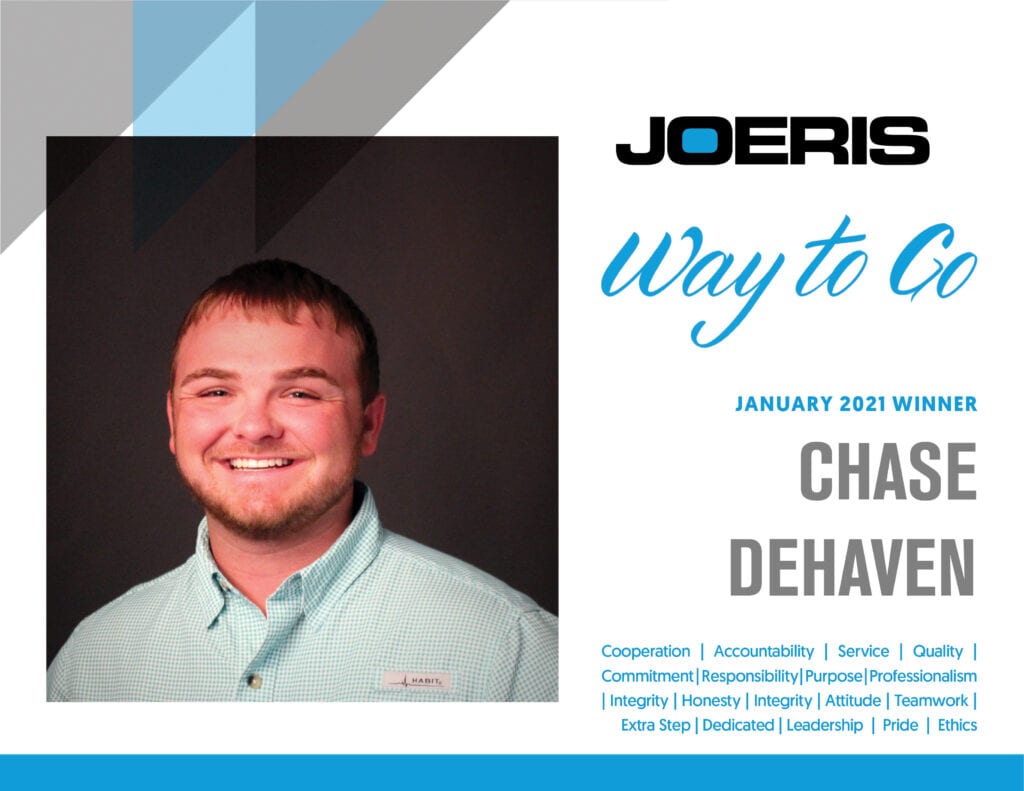 Chase DeHaven, Project Engineer, is the January Joeris Way to Go Winner!
Congrats Chase DeHaven, Project Engineer, for receiving January's Joeris Way To Go award! Chase's willingness to go the extra step makes him an incredible team member.
Congrats, Chase! You deserve it.
This "Way to Go" is written to let Chase know our gratitude for stepping in for a bid runner who was unable to assist in the 11th hour. With short notice, Chase was there for the pre-con team, quickly learned what he had to do in order to successfully turn in a CSP, and executed the stressful task flawlessly… all with a pragmatic attitude. This really showcased his willingness to be a part of the complete Joeris team! Great job Chase and thank you again!

CHASE DEHAVEN nominated by Neil Lewis, Senior Estimator
Joeris Way to Go is our Employee Recognition Program.
Every month, Joeris employees recognize their fellow team members who have gone above and beyond and demonstrated one or more characteristics of The Joeris Way by nominating them for a Joeris Way to Go. At the end of the month, all of the nominations are collected, and one winner is randomly selected during our Friday morning staff meeting.
A round of applause to all of our January Joeris Way to Go nominees!
DARRY SMITH nominated by Cathy Mostella
KASEY TIEKEN nominated by Patty Moreno
CHASE DEHAVEN nominated by Neil Lewis
STACY DELEON nominated by Belinda Muniz