Our school supply drive has come to an end. Thank you to all of our Joeris employees and individuals from our local communities who donated school supplies to this cause.
Ashley Orndorff of Joeris General Contractors drops off school supplies at CASA San Antonio. Representatives from Mattress Firm also pictured dropping off supplies from their own school supply drive. Great work for a great cause.
We received a thank you note from Kimberly Davolt-Flores, Team Manager at CASA San Antonio, that speaks volumes about what a small organized effort can mean for the students supported by CASA.
"Thank you for rallying together in order to make it possible for so many of our CASA children to return to school with the essentials they needed.
We can all relate to the first day of school and how we felt with our cool backpacks pulling out our newschool supplies, crayons, markers, the pencils with the eraser tops.
These moments you have given them combined with all our Advocates do sees them through. Thank you once again. We look forward to the possibility of partnering with you in the future."
Respectfully,
Kimberly Davolt-Flores
Team Manager
Child Advocates San Antonio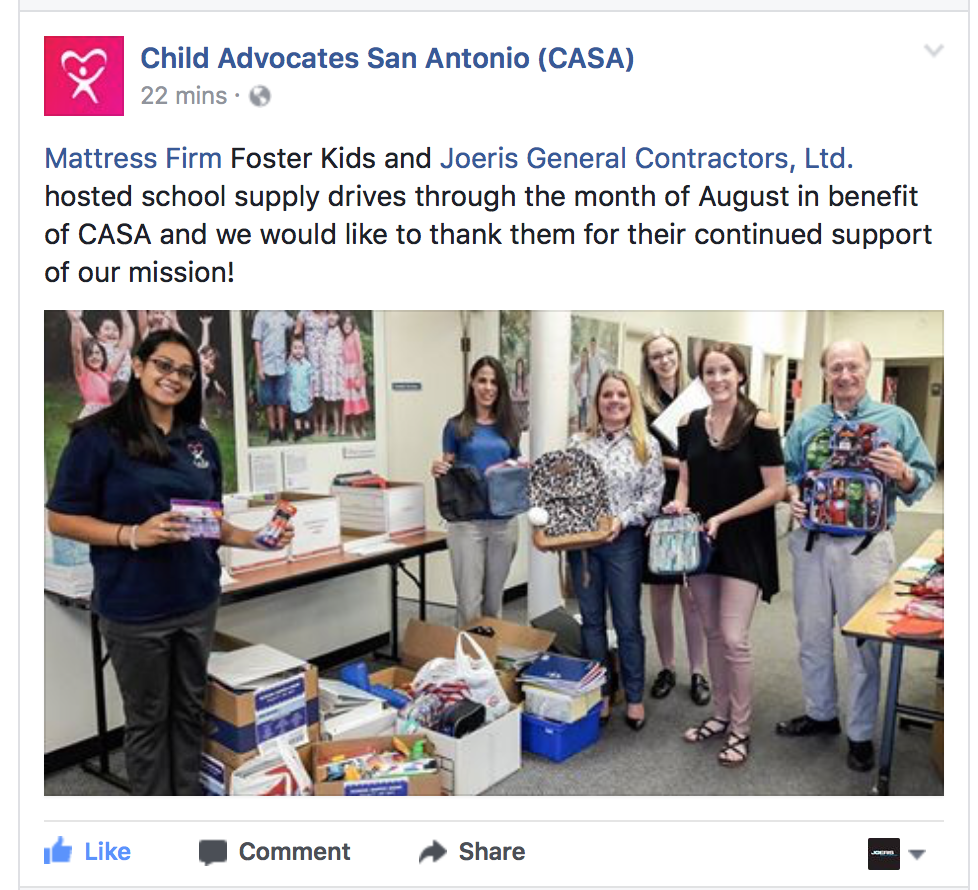 August is the month of crunch time for getting ready to go back to school. We have decided to dedicate this month to the children of our community who are in need of school supplies. With the help of our great industry peers, we collected school supplies for all ages of children (Pre-K through high school) from August 7th -18th. This drive benefitted CASA (Court Appointed Special Advocates) in San Antonio, Travis County, and Dallas.
Joeris WE BUILD SCHOOLS Supply Drive Flyer