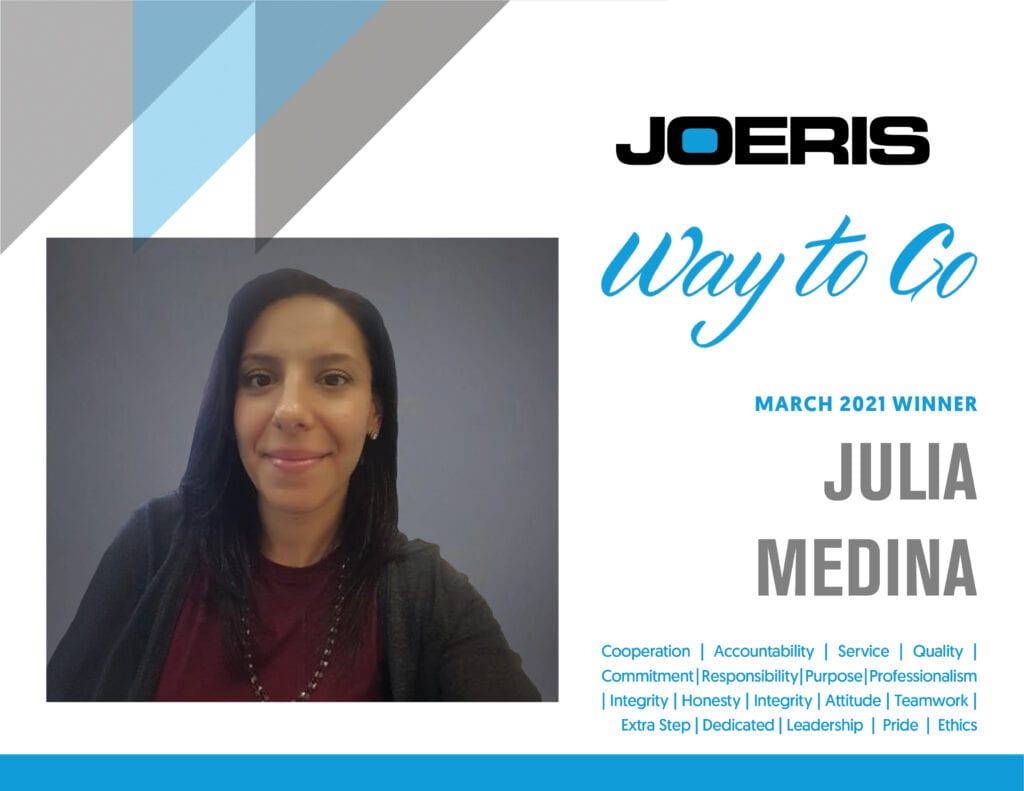 Julia Medina, Project Manager Assistant, is the March Joeris Way to Go Winner!
Congrats Julia Medina, Project Manager Assistant, for receiving March's Joeris Way To Go award! Julia is recognized by three of her fellow team members for her dedication to her team and willingness to go the extra mile when needed.
Congrats, Julia! You deserve it.
Julia has been so helpful this past year as we've had to shift gears for our virtual New Hire Orientation. Julia started as a new-hire going through virtual onboarding herself and is now a tremendous part of ensuring Houston new-hires continue to have a great experience! We couldn't do it without her.

JULIA MEDINA nominated by Katie Coleman, Human Resources Generalist
Julia is a real pleasure to work with. She is very professional and has a great attitude.

JULIA MEDINA nominated by Dale Nieder, Senior Superintendent
Julia is a huge part of the Houston Office and a bright spot for everyone. She has worked very hard to learn the PMA role in recent months while also taking care of many other administrative duties in the office. She regularly comes to the office on weekends or after hours to decorate offices for birthdays and to prepare for things such as New Hire Orientation. We can count on her to have a smile on her face and always being willing to take on any task that she performs with excellence.

JULIA MEDINA nominated by Nathan Plake, Vice President Houston
Joeris Way to Go is our Employee Recognition Program.
Every month, Joeris employees recognize their fellow team members who have gone above and beyond and demonstrated one or more characteristics of The Joeris Way by nominating them for a Joeris Way to Go. At the end of the month, all of the nominations are collected, and one winner is randomly selected during our Friday morning staff meeting.
A round of applause to all of our March Joeris Way to Go nominees!
AARON VINCENT nominated by Zach Wernette
MONICA HURON nominated by Andrew Pitcher
SHANI CHAPMAN nominated by Katie Coleman
JULIA MEDINA nominated by Katie Coleman, Dale Nieder, Nathan Plake
CHRISTINE WILSON nominated by Katie Coleman
KENNETH GROOM nominated by Alex Faoro
JAMES JIMENEZ nominated by Dennis Naylor
Read More: A Selection of Past Joeris Way to Go Winners