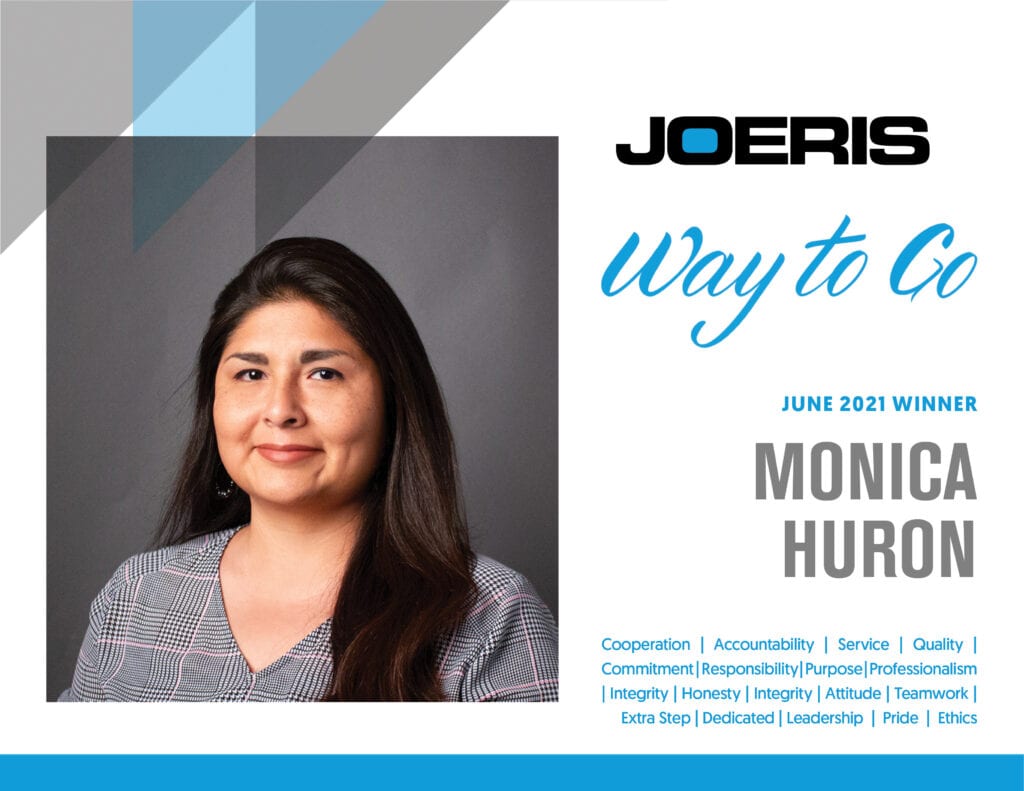 Monica Huron, Accountant, is the June Joeris Way to Go Winner!
Congrats Monica Huron, Accountant, for receiving June's Joeris Way To Go award! Monica is recognized by one of her fellow team members for her patience, mentorship, and willingness to help others.
Congrats, Monica! You deserve it.
Monica went out of her way to help teach me some new Excel tricks to help me better format a report she prepared for me! She is a great asset to Joeris and a pleasure to work with!

Monica Huron nominated by Kendal Haegelin, HR Generalist
Joeris Way to Go is our Employee Recognition Program.
Every month, Joeris employees recognize their fellow team members who have gone above and beyond and demonstrated one or more characteristics of The Joeris Way by nominating them for a Joeris Way to Go. At the end of the month, all of the nominations are collected, and one winner is randomly selected during our Friday morning staff meeting.
A round of applause to all of our June Joeris Way to Go nominees!
ASHLEY FLOWERS nominated by Dan Byrom
WAYNE LAFLAMME nominated by Mike Brown
LOGAN DAVENPORT nominated by Tim Sneed
RON KING nominated by Ellen Ward
BEN LAWRENCE nominated by Aaron Kuhl
ZEKE WILLIAMS nominated by Aaron Kuhl
KOBY SHORT nominated by Aaron Kuhl
TERRY BOATWRIGHT nominated by Aaron Kuhl
CHRISTINA RAMIREZ nominated by Patty Moreno
NETTY WORKMON nominated by Patty Moreno
MIMI CUNY nominated by Patty Moreno
TANYA KNOX nominated by Patty Moreno
SELENA HORN nominated by Laura Reddehase
RUEBEN TORRES nominated by Belinda Muniz