Joeris COVID-19 Update | March 26, 2020
As this unprecedented pandemic evolves, so do our responses and measures to keep you, our teams, and our projects safe. We have included those updates in this week's bulletin.
This infographic outlines some of our ongoing efforts regarding the COVID-19 virus. We've put these measures in place because we want you and your loved ones to stay safe, healthy, and comfortable.
We are available to our clients and trade partners at any time. Contact your project lead with any of your project concerns. We're also here if you have questions about how COVID-19 may impact on-going or future work.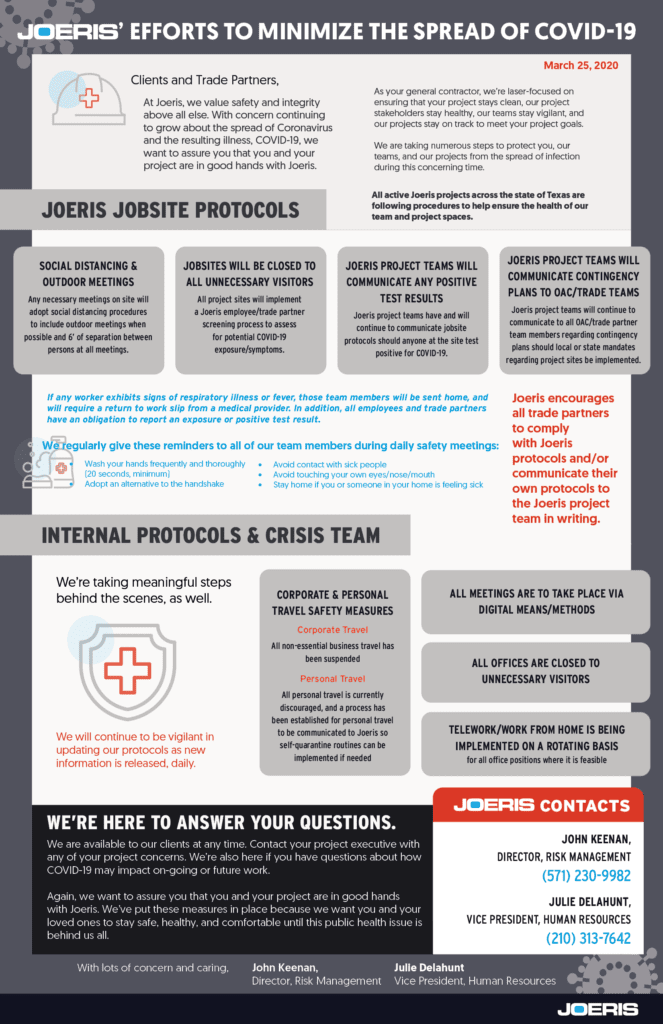 Additional Resources
OSHA COVID-19 Control & Prevention Measures: https://www.osha.gov/SLTC/covid-19/controlprevention.html
AGC of America COVID-19 On-going Updates: https://www.agc.org/coronavirus-covid-19
ABC Coronavirus Resources for Employers: https://abc.org/coronavirus
CDC – How to Protect Yourself: https://www.cdc.gov/coronavirus/2019-ncov/prepare/prevention.html
CDC – What To Do If You Are Sick: https://www.cdc.gov/coronavirus/2019-ncov/if-you-are-sick/steps-when-sick.html