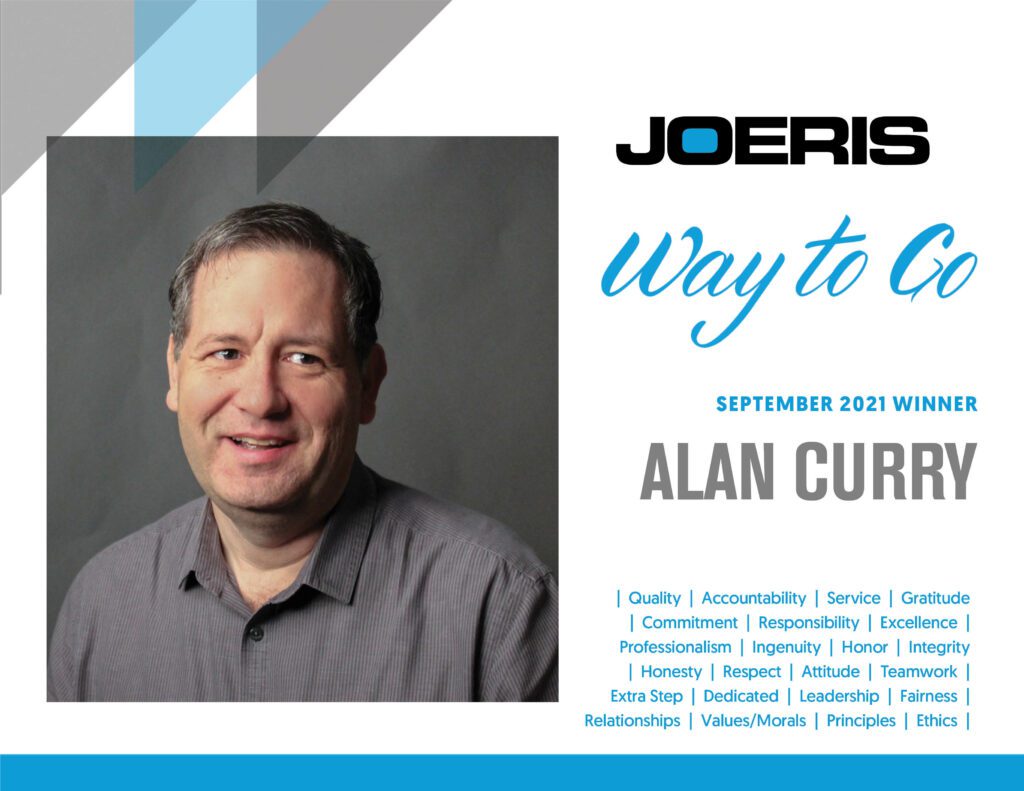 Alan Curry, Estimator, is the September Joeris Way to Go Winner!
Congrats Alan Curry, Estimator, for receiving September's Joeris Way To Go award! Alan is recognized by one of his fellow team members for his excellence and positive attitude.
Congrats, Alan! You deserve it.
Alan is always willing to go above and beyond in everything he does, and always maintains a positive and upbeat attitude while working through challenging issues with clients and architects. He always goes the extra mile!

Alan Curry nominated by Dan Byrom, Director of Operations
Joeris Way to Go is our Employee Recognition Program.
Every month, Joeris employees recognize their fellow team members who have gone above and beyond and demonstrated one or more characteristics of The Joeris Way by nominating them for a Joeris Way to Go. At the end of the month, all of the nominations are collected, and one winner is randomly selected during our Friday morning staff meeting.
A round of applause to all of our September Joeris Way to Go nominees!
ERIC LYON nominated by Larry Nelson and Beka Graham
LOGAN DAVENPORT nominated by Tim Sneed
CLAYTON DETTEN nominated by Tim Sneed and Logan Davenport
AARON VINCENT nominated by Tim Sneed
ELIJIO RIOS-CARRENO nominated by Alex Faoro
AARON KUHL nominated by James Jimenez
VICTOR GOMEZ nominated by John Luis
ANTHONY CAVALLARO nominated by Alex Bush
CHRISTINE WILSON nominated by Selena Horn
WESLEY JOHNSTON nominated by Reuben Torres
ALEX MUNOZ nominated by Gilbert Rodriguez
ALAN CURRY nominated by Dan Byrom
KASSANDRA MORALES nominated by Will Cooley
HARRY DIXON nominated by Meredith Deitelbaum
BRANDON REEVES nominated by Meredith Deitelbaum