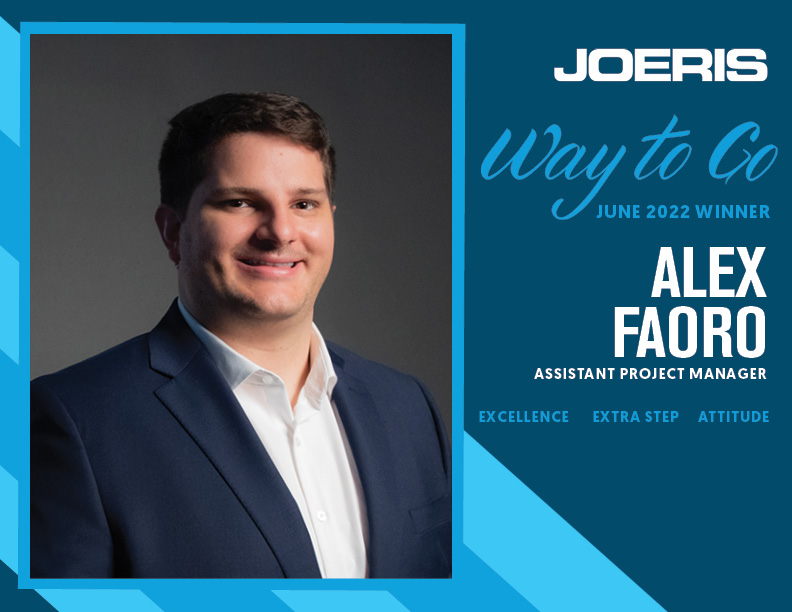 Alex Faoro, Assistant Project Manager, is the June Joeris Way to Go Winner!
UT Arlington Alumni, Alex Faoro, is recognized by one of his fellow team members for his Excellence, Extra Step, and Attitude. Alex brings his attention to detail and excellent customer relations skills to the table for each project he works on and a persevering, great attitude to work every day.
Congratulations on winning June's Joeris Way to Go, Alex!
"Alex did an outstanding job with the RFI and Submittal process after the departure of one of our team members. He has really stepped up and ensured that nothing has slipped through the cracks. On top of all of this, he still managed time to greatly help out with the buy-out process. Appreciate all your work and dedication to making this project successful!"

Alex Faoro nominated by Brandon Woodbury, Project Manager
Joeris Way to Go is our Employee Recognition Program.
Every month, Joeris employees recognize their fellow team members who have gone above and beyond and demonstrated one or more characteristics of The Joeris Way by nominating them for a Joeris Way to Go. At the end of the month, all of the nominations are collected, and one winner is randomly selected during our Friday morning staff meeting.
A round of applause to all of our June Joeris Way to Go nominees!
CHRISTIAN SIEWERT Nominated by Brian Baker
BEN LAWRENCE Nominated by Barret Stillings, Aaron Kuhl, Carl Caver & Alex Faoro
DAVID SALINAS Nominated by Kyle Fletcher & Dean Womble
TRISTAN GARDNER Nominated by Melissa Jourdan
CARL CAVER Nominated by Dean Womble & Kyle Fletcher
DREW GODWIN Nominated by Victoria Johnson
MIGUEL DELGADO Nominated by Alex Faoro
LIZ TREVINO Nominated by Travis Bone
KEN GROOM Nominated by James Jimenez
CECILIA TORRES Nominated by Cathy Mostella
REBEKAH GRAHAM Nominated by Kevin Lange
CALEB WEISE Nominated by Dean Womble