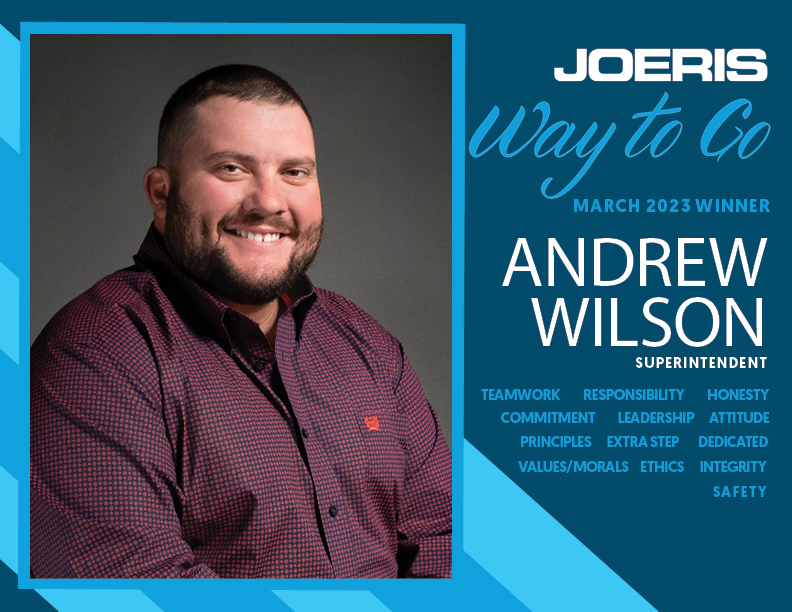 Andrew Wilson is the March Joeris Way to Go Winner!
Our March Joeris Way To Go Winner has been chosen! Superintendent Andrew Wilson is recognized by one of his fellow team members for his attributes of Safety, Commitment, Responsibility, Integrity, Honesty, Attitude, Teamwork, Dedication, Leadership, Values/Morals, Principles, Ethics, and Extra Step. Andrew is described as someone who always leads by example.
Congratulations on winning March's Joeris Way to Go, Andrew!
"During the night of February 3, 2023, an eight-inch fire water main flange seal failed, allowing massive amounts of water into the Maintenance Building on the Pasadena ISD Maintenance, Operations, and Warehouse project. The leak was discovered at 6:00 AM Saturday morning. Andrew instantly went into action to stop the water flow, gather the necessary personnel to remove the water, procure a cleanup company, and then notify the Project Manager and Project Executive of the issue. There was 3 " deep water over 80% of the large building at this time. Within four hours, the majority of the water had been removed from the building. Andrew directed the cleanup company to test all sheetrock that was exposed to the water, evaluated the test results, and directed the removal of all damaged sheetrock. Additionally, Andrew procured over 40 fans to help the drying-out process. By Saturday evening, the building floor was free of water, damaged materials removed, and fans were placed where they would complete the drying-out process. Andrew exhibited outstanding commitment, leadership, teamwork, and dedication to mitigating the damage from the water. He should be recognized for his instant and focused actions on overcoming the impact of this incident."

Andrew Wilson Nominated by Joe Street, Operations Manager
Joeris Way to Go is our Employee Recognition Program.
Every month, Joeris employees recognize their fellow team members who have gone above and beyond and demonstrated one or more characteristics of The Joeris Way by nominating them for a Joeris Way to Go. During Joeris' end-of-the-month Friday Staff Meetings, all nominations from our people are collected, and one person will be randomly selected as the Joeris Way to Go Winner.
A round of applause to our March Joeris Way to Go nominees!
KYLE SPRADLEY Nominated by Brandon Ramon
MICHAEL PRESTON Nominated by Brandon Ramon
NICK DEBOUCHEL Nominated by Brandon Ramon
ALEX MUNOZ Nominated by Brandon Ramon
TODD PAPPENFUS Nominated by Alex Faoro
MEGAN SIEVER Nominated by Julie Delahunt
GARY BRAYTON Nominated by Ashton Corder
JONATHAN FUENTES Nominated by Dean Womble
DAVID MEJIA Nominated by Richard McMahon
SANDRA DELEON Nominated by Nidia Rubio
TANYA KNOX Nominated by Kasey Tieken
V. ANDHERE Nominated by Janet Dusek
TIM SNEED Nominated by Julie Delahunt