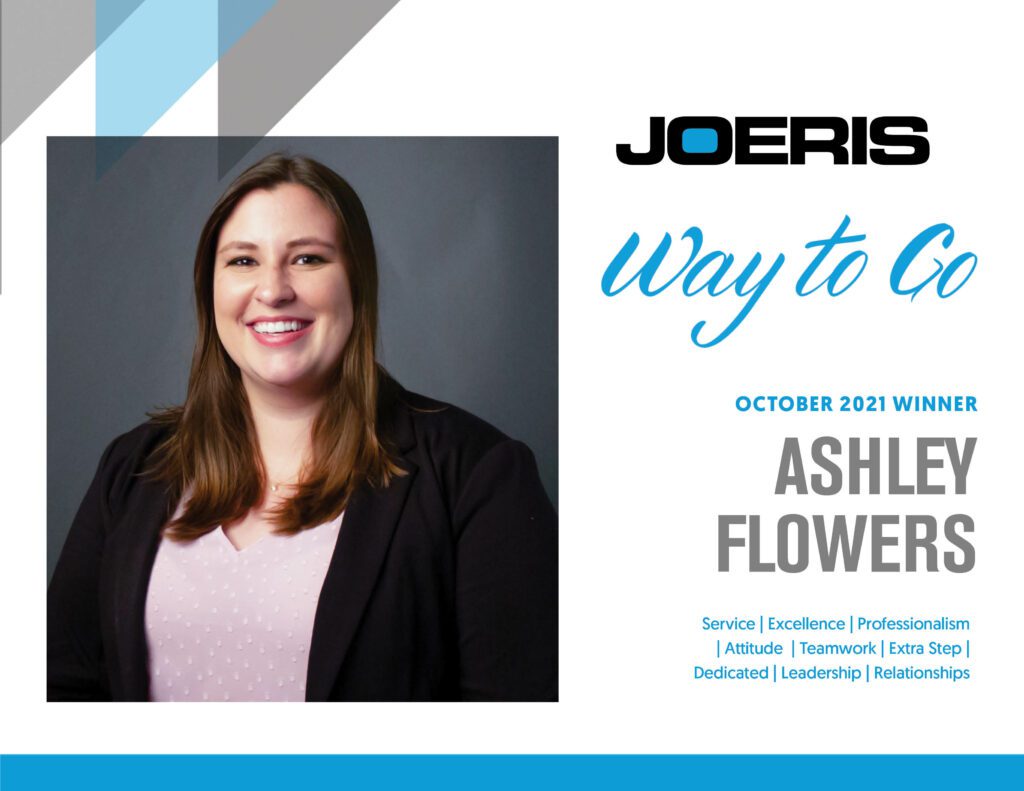 Ashley Flowers, Proposal Coordinator, is the October Joeris Way to Go Winner!
Congrats Ashley Flowers, Proposal Coordinator, for receiving October's Joeris Way To Go award! Ashley is recognized by one of his fellow team members for her supportive nature, leadership, and thoughtfulness.
Congrats, Ashley! You deserve it.
Ashley has stepped up over the last couple of weeks to support the marketing team and has consistently leant a hand or a word of advice/council in key moments, creating positive impact through her leadership and thoughtfulness.

Ashley Flowers nominated by Selena Horn, Marketing Manager
Joeris Way to Go is our Employee Recognition Program.
Every month, Joeris employees recognize their fellow team members who have gone above and beyond and demonstrated one or more characteristics of The Joeris Way by nominating them for a Joeris Way to Go. At the end of the month, all of the nominations are collected, and one winner is randomly selected during our Friday morning staff meeting.
A round of applause to all of our September Joeris Way to Go nominees!
SHRADDHA VENUGOPAL Nominated by Lauren Gibson
JACK WHITTEN Nominated by Lauren Gibson
DAN BYROM Nominated by Selena Horn
ELIJIO RIOS-CARRENO Nominated by Alex Faoro
VICKIE BANKS Nominated by Kasey Tieken
Justin Sinclair Nominated by Vickie Banks
CHRISTINA RAMIREZ Nominated by Mimi Cuny
JULIE DELAHUNT Nominated by Dennis Naylor
KATIE WYATT Nominated by Dennis Naylor
DANIEL OLIVARES Nominated by Dennis Naylor
MARIANA FLORES Nominated by Dennis Naylor
ALEX CHOW Nominated by Dennis Naylor
ERICA TURNER Nominated by Carl Caver
SANDRA DE LEON Nominated by Carl Caver
AARON KUHL Nominated by Koby Short