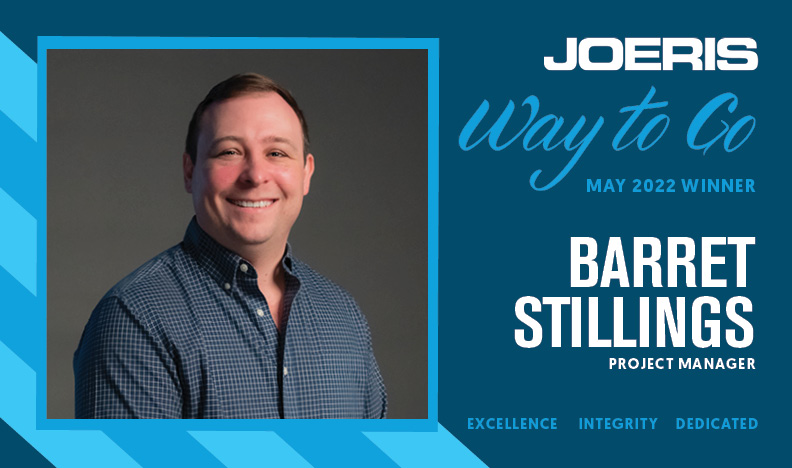 Barret Stillings, Project Manager, is the May Joeris Way to Go Winner!
Congrats Barret Stillings, Project Manager, for receiving May's Joeris Way To Go award! Barret is recognized by one of his fellow team members for his Excellence, Integrity and Leadership.
Congrats, Barret! You deserve it.
"Thanks to Barret, Erica Turner, Sandra DeLeon, Kyle Fletcher, and everyone on the party planning committee for throwing a great boat party event!"

Barret Stillings nominated by Alex Faoro, Assistant Project Manager
Joeris Way to Go is our Employee Recognition Program.
Every month, Joeris employees recognize their fellow team members who have gone above and beyond and demonstrated one or more characteristics of The Joeris Way by nominating them for a Joeris Way to Go. At the end of the month, all of the nominations are collected, and one winner is randomly selected during our Friday morning staff meeting.
A round of applause to all of our May Joeris Way to Go nominees!
TONY POMEROY Nominated by Alex Faoro
LORI PEERY Nominated by Tim Sneed
JOSE SANCHEZ Nominated by Sysun Howell
AARON KUHL Nominated by James Jimenez
MIGUEL DELGADO Nominated by Alex Faoro
JONATHAN FUENTES Nominated by Alex Faoro
SELENA MARQUEZ HORN Nominated by Barret Stillings
MICHAEL CAPIZZI Nominated by Lori Peery
EDDIE DUQUE Nominated by John Keenan
JUSTIN SINCLAIR Nominated by Sysun Howell
JENNY LEE Nominated by Belinda Muniz
CLAYTON DETTEN Nominated by Larry Nelson
KEN GROOM Nominated by Larry Nelson