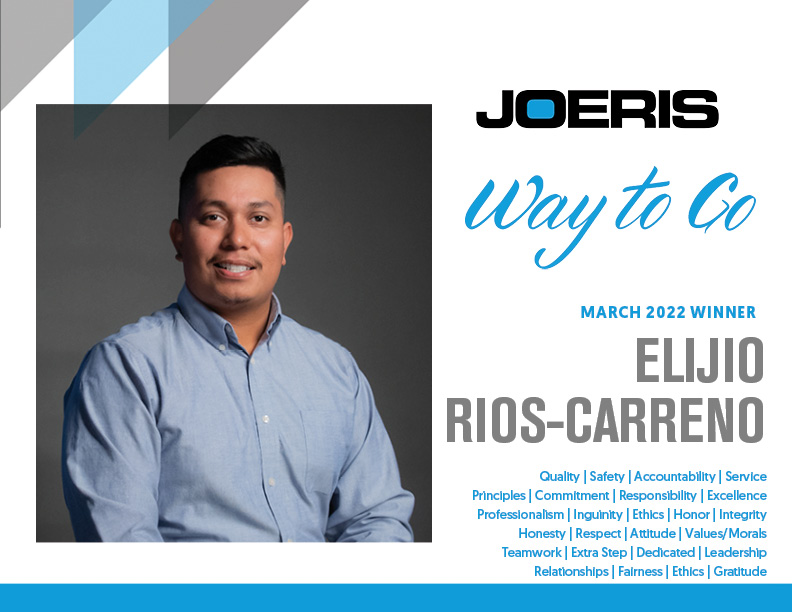 Elijio Rios-Carreno, Superintendent, is the March Joeris Way to Go Winner!
Congrats Elijio Rios-Carreno, Superintendent, for receiving March's Joeris Way To Go award! Elijio is recognized by one of his fellow team members for his Quality, Commitment, and Teamwork.
Congrats, Elijio! You deserve it.
"E has done an amazing job with punchlist and closing out the project. I really appreciate his hard work. Thanks and keep it up!"

Elijio Rios-Carreno nominated by Alex Faoro, Assistant Project Manager
Joeris Way to Go is our Employee Recognition Program.
Every month, Joeris employees recognize their fellow team members who have gone above and beyond and demonstrated one or more characteristics of The Joeris Way by nominating them for a Joeris Way to Go. At the end of the month, all of the nominations are collected, and one winner is randomly selected during our Friday morning staff meeting.
A round of applause to all of our March Joeris Way to Go nominees!
JOHN KEENAN Nominated by Aaron Kohl
DARRY SMITH Nominated by Michael Brown
NEIL LEWIS Nominated by Sysun Howell
KRISTI DUARTE Nominated by Kimberlee Barrett
GRAHAM TIDWELL Nominated by Tommy Zavesky
ROBERT CONTI Nominated by Steven Turner
SANDRA DE LEON Nominated by Erica Turner
KENNETH DODSON Nominated by Alex Trevino
KASSIDY BORTONI Nominated by Jeffery Challis
JUSTIN LUTRELL Nominated by Alex Trevino
CONNOR KAUFMANN Nominated by Ashton Corder
MARK EDDY Nominated by Ben Lawrence
JASON MCDOWELL Nominated by Graham Tidwell
RONALD SINGER Nominated by Benjamin Sheffer