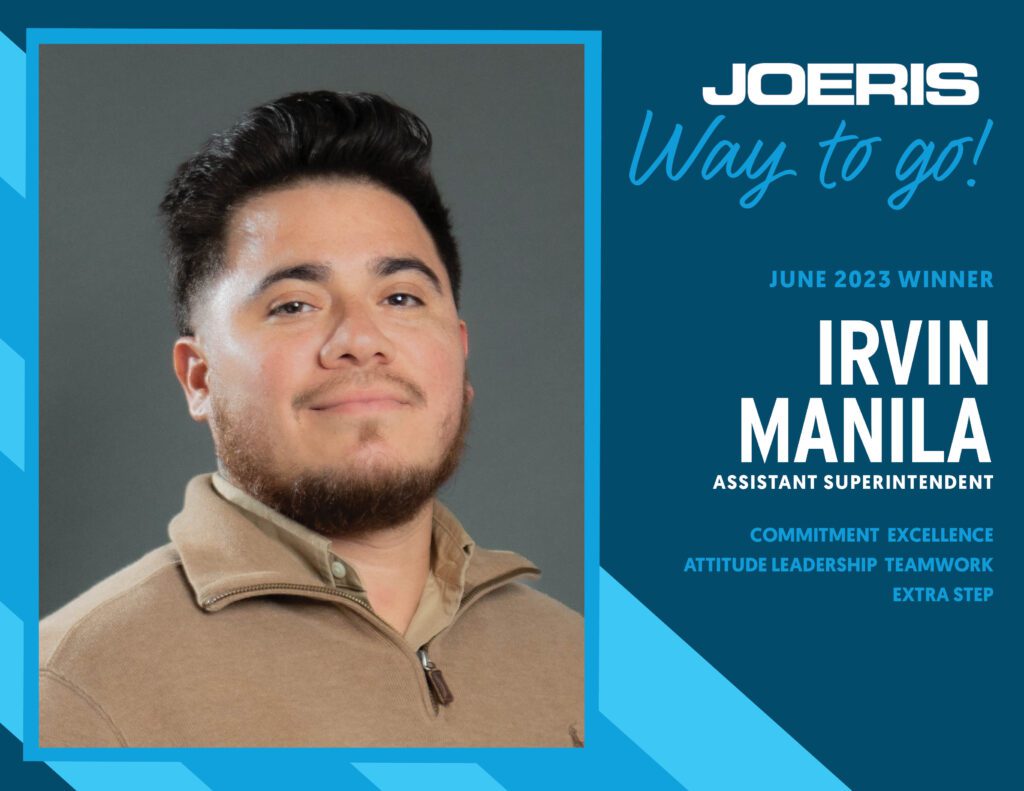 Irvin Manila is the June Joeris Way to Go Winner!
Our June Joeris Way To Go Winner has been chosen! Assistant Superintendent, Irvin Manila, was recognized by four of his fellow team members for his attributes of Commitment, Excellence, Attitude, Leadership, Teamwork, and Extra Step.
Congratulations on winning June's Joeris Way to Go, Invin!
"I enthusiastically propose Irvin Manila for Joeris' WAY TO GO award! While assigned as an Assistant Superintendent in the construction of Lamar ISD Elementary #33, Ivin has proven himself invaluable to our on-site Team and to out company. Chris Clark (Superintendent) was selected as a juror on a trial in Harris County and Irvin has stepped up and filled Chris's position in an outstanding manner. With multiple trades working (setting hollow core planks, concrete work, plumbing and electrical work) has effectively kept the project progressing. He has proven exceptional in coordinating the work, problem solution ( kept the hollow core plank setting on schedule while experiencing tremendous rain on the project.) Irvin communicates very well with the subs and the Team and drawing on his knowlege of the construction progress has been able to overcome all obstacles to keep the project moving forward in Chris's absense. Irvin displays all the values that helps the Team and our company continue to be successful. WAY TO GO IRVIN!!!"

Irvin Manila Nominated by Joe Street, Operations Manager
Joeris Way to Go is our Employee Recognition Program.
Every month, Joeris employees recognize their fellow team members who have gone above and beyond and demonstrated one or more characteristics of The Joeris Way by nominating them for a Joeris Way to Go. During Joeris' end-of-the-month Friday Staff Meetings, all nominations from our people are collected, and one person will be randomly selected as the Joeris Way to Go Winner.
A round of applause to our May Joeris Way to Go nominees!
TRAVIS COLE Nominated by Kyle Sirizzotti
RUSSELL JENKINS Nominated by Monica Huron, Debbie Scott, Tracy Brown, Cathy Montella, and Kim Barrett
JOSH HANSON Nominated by Alex Faoro
CHRISTINE WILSON Nominated by Charles Forehand
KIM BARRETT Nominated by Cathy Mostella
MONICA HURON Nominated by Cathy Mostella
RAFAEL GONZALEZ Nominated by Julie Delahunt
SANDRA DE LEON Nominated by Aaron Kuhl
JAMES JIMENEZ Nominated by Aaron Kuhl
SAM LAWRENCE Nominated by Carl Caver
RAY ESPINOZA SR. Nominated by Sophia Wilson
KRISTI DUARTE Nominated by Monica Huron
TOM CREWS Nominated by Monica Huron
AYLEEN VILLARREAL Nominated by Selena Horn
ASHLEY FLOWERS Nominated by Selena Horn
KATEY SHEA Nominated by Selena Horn
BEKA GRAHAM Nominated by Bruno Castillo