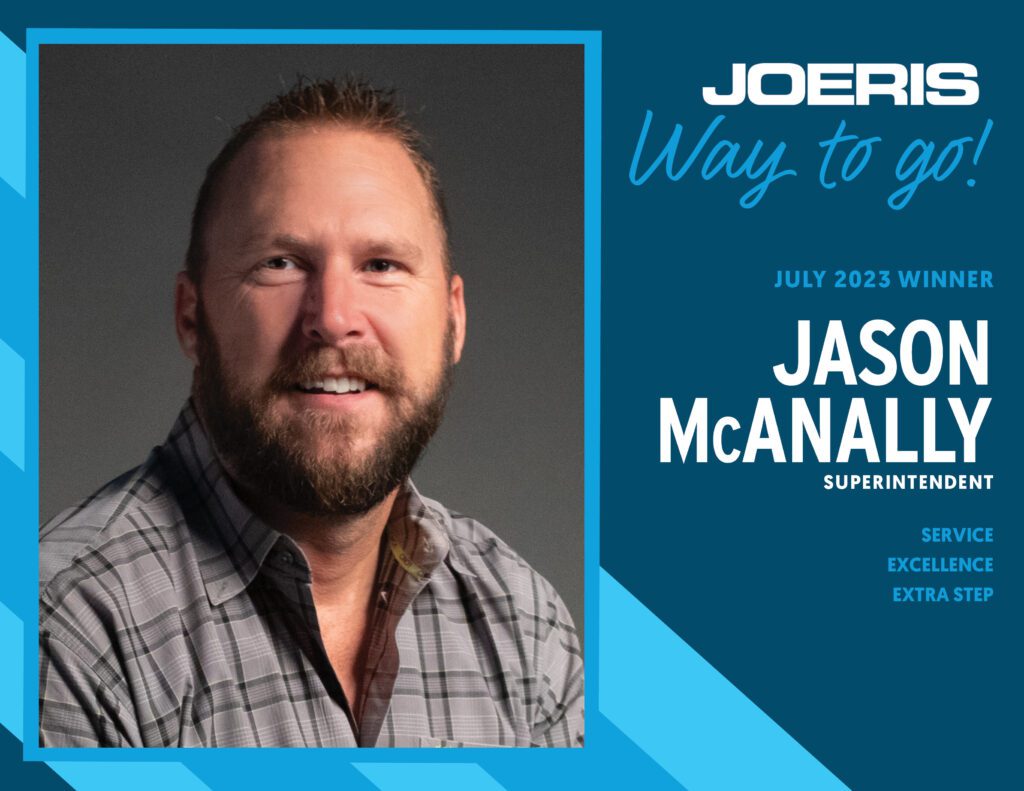 Jason McAnally is the July Joeris Way to Go Winner!
Our July Joeris Way To Go Winner has been chosen! Superintendent, Jason McAnally, was recognized by one of his fellow team members for his attributes of Service, Excellence, and Extra Step.
Congratulations on winning July's Joeris Way to Go, Jason!
"Last Friday Jason came in to our office and noticed our Ice/Water machine was not working. The new one was in the kitchen but had we had not had it installed yet. He took it upon himself to not only install it but create the new vent system we needed for proper airflow. We are so grateful to have a coworker that was willing to go above and beyond to make it happen! Thank you JMac!!"

Jason McAnally Nominated by Megan Siever, Project Manager Assistant
Joeris Way to Go is our Employee Recognition Program.
Every month, Joeris employees recognize their fellow team members who have gone above and beyond and demonstrated one or more characteristics of The Joeris Way by nominating them for a Joeris Way to Go. During Joeris' end-of-the-month Friday Staff Meetings, all nominations from our people are collected, and one person will be randomly selected as the Joeris Way to Go Winner.
A round of applause to our May Joeris Way to Go nominees!
ALLISON SORRELLS Nominated by Mariana Flores
NIDIA RUBIO Nominated by Sandra DeLeon
JAMES JIMENEZ Nominated by Sandra DeLeon
MARIANA FLORES Nominated by Sandra DeLeon
RAY ESPINOZA Nominated by Mitchell Davis
SANDRA DE LEON Nominated by Carl Caver
ALEJANDRO MUNOZ Nominated by Sam Lowry
HANNAH ECKELS Nominated by Sam Lowry
MEGAN SIEVER Nominated by Sam Lowry
STEFANI FIFE Nominated by Sam Lowry
ESMERALDA ROSAS Nominated by Kyle Fletcher
TOM LYONS Nominated by Janet Dusek
FELIPE CASTILLO JR  Nominated by Charles Forehand
ALEX FAORO Nominated by David Salinas
KENNETH GROOM Nominated by Alex Faoro and David Salinas
JAEDAN McBEAN Nominated by Megan Siever
CARL CAVER Nominated by Clayton Detton
MATT SHELTON Nominated by Clayton Hodges