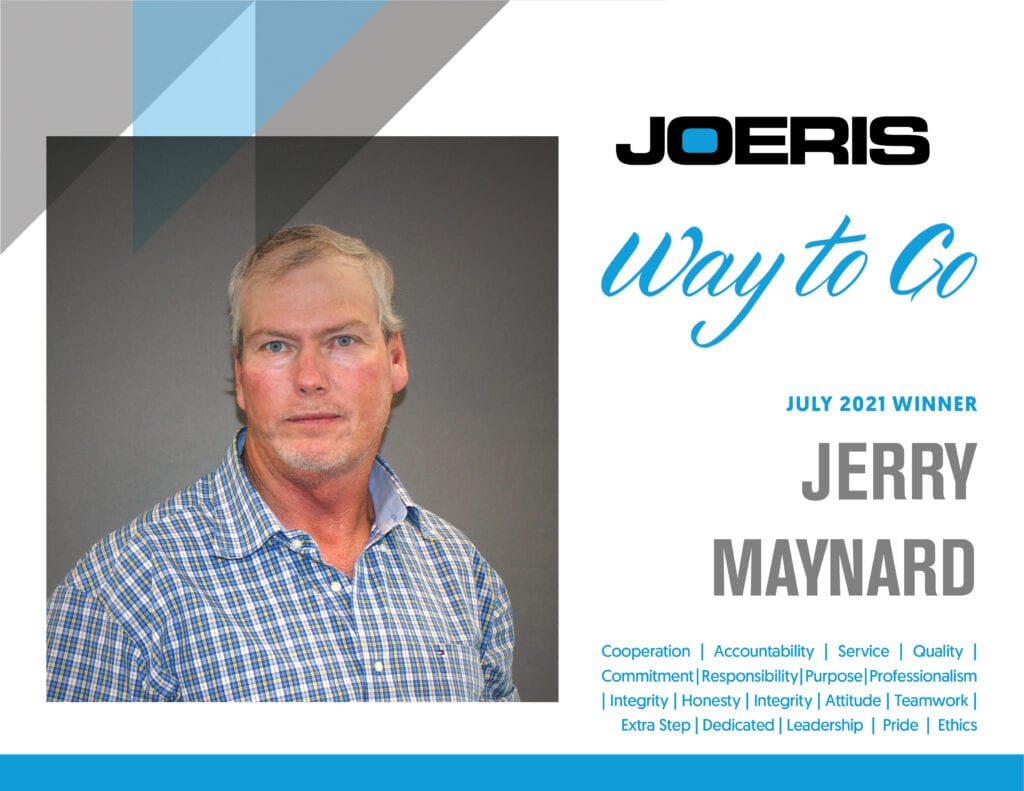 Jerry Maynard, Assistant Superintendent, is the July Joeris Way to Go Winner!
Congrats Jerry Maynard, Assistant Superintendent, for receiving July's Joeris Way To Go award! Jerry is recognized by one of his fellow team members for his ingenuity.
Congrats, Jerry! You deserve it.
Jerry mentioned to the Casis Team that it was difficult giving the same orientation multiple times throughout the day and took time away from the carpenter's tasks to come to the trailer at random times to translate orientations for spanish speaking subcontractors. He suggested having a PowerPoint that could read the orientation in both English and Spanish to streamline safety orientations and ensure both Spanish and English speakers understood what was being told to them.

Jerry Maynard nominated by Rebekah Graham, Project Engineer
Joeris Way to Go is our Employee Recognition Program.
Every month, Joeris employees recognize their fellow team members who have gone above and beyond and demonstrated one or more characteristics of The Joeris Way by nominating them for a Joeris Way to Go. At the end of the month, all of the nominations are collected, and one winner is randomly selected during our Friday morning staff meeting.
A round of applause to all of our July Joeris Way to Go nominees!
ASHTON CORDER nominated by Kristi Duarte
NETTY WOKMON nominated by Andi Galloway
RONALD KING nominated by Erica Turner
TOM CREWS nominated by Erica Turner
JO CHUKLOCHIK nominated by Belinda Muniz
ELIJIO RIOS-CARRENO nominated by Alex Faoro
KENNETH GROOM nominated by Alex Faoro
AARON KUHL nominated by James Jimenez
ESMERALDA ROSAS nominated by Kyle Fletcher
STACY DELEON nominated by Monica Huron
DEBBIE SCOTT nominated by Kenneth Dodson
KENDAL HAEGELIN nominated by Andrew Pitcher
KATIE WYATT nominated by Andrew Pitcher
CHRISTIAN SIEWERT nominated by Brandon Ramon
TRAVIS BONE nominated by Angela Cardwell
CARLOS GARZA nominated by Eduardo Angel
RAY TAYLOR nominated by Eduardo Angel