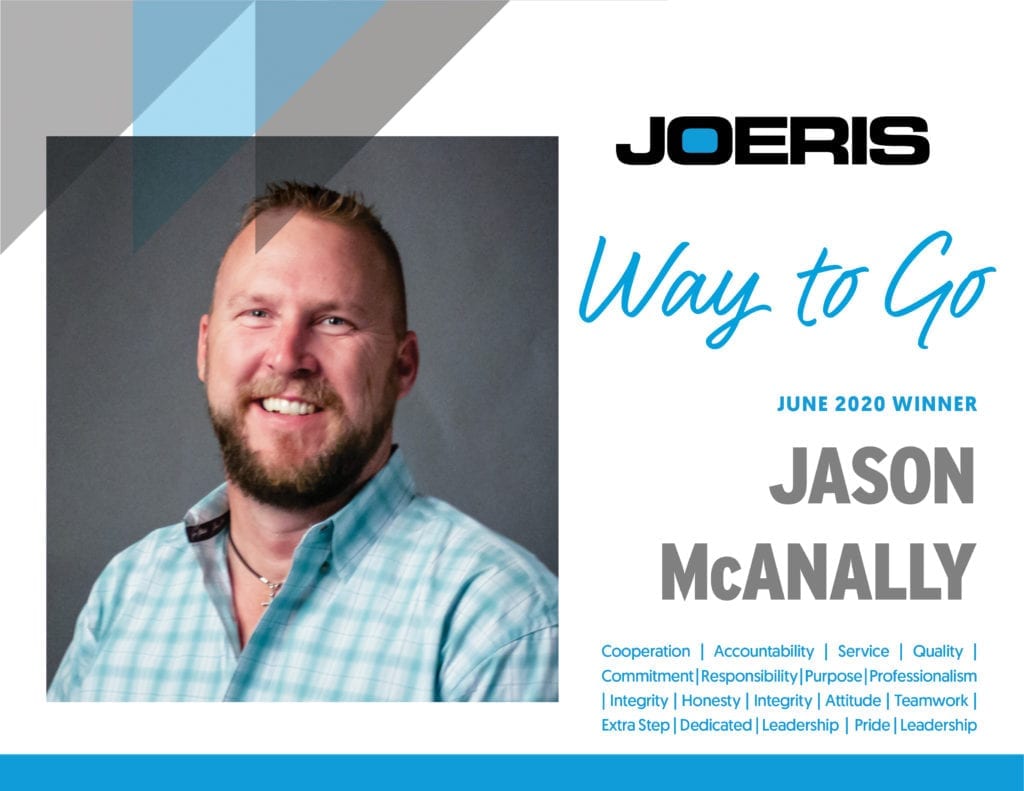 Jason McAnally, Superintendent, is the June Joeris Way to Go Winner!
Jason works in the Houston office and instills the Joeris culture in our newest office by being an all-star superintendent for his team. He was nominated for his values-based leadership and dedication to the #TheJoerisWay.
Jason's recent projects include the Harper's Preserve Sanitary Sewer Re-Routing at Building A and a retail renovation for H-E-B Conroe. Congrats, Jason! You deserve it.
"Jason is the epitome of a Joeris Superindendent, and an all-around good person. I'm proud to call him my friend."

JASON MCANALLY nominated by Dale Neider
Joeris Way to Go is our Employee Recognition Program.
Every month, Joeris employees recognize their fellow team members who have gone above and beyond and demonstrated one or more characteristics of The Joeris Way by nominating them for a Joeris Way to Go. At the end of the month, all of the nominations are collected, and one winner is randomly selected during our Friday morning staff meeting.
A round of applause to all of our June Joeris Way to Go nominees!
MEG SCHNEIDER nominated by Stephen Teltow
JASON PATTERSON nominated by Dale Neider
DANIEL OLIVARES nominated by Robert Woys
AJ MARTINEZ nominated by Kasey Tieken
CARLOS GARZA nominated by Ray Taylor
JASON MCANALLY nominated by Dale Neider
VALENTIN IBARRA nominated by Aubrey Harrell
ELLEN WARD nominated by Julie Delahunt
JEFF CHALLIS nominated by Dale Nieder
VALENTIN IBARRA nominated by Manny Garcia
KENNETH GROOM nominated by Alex Faoro