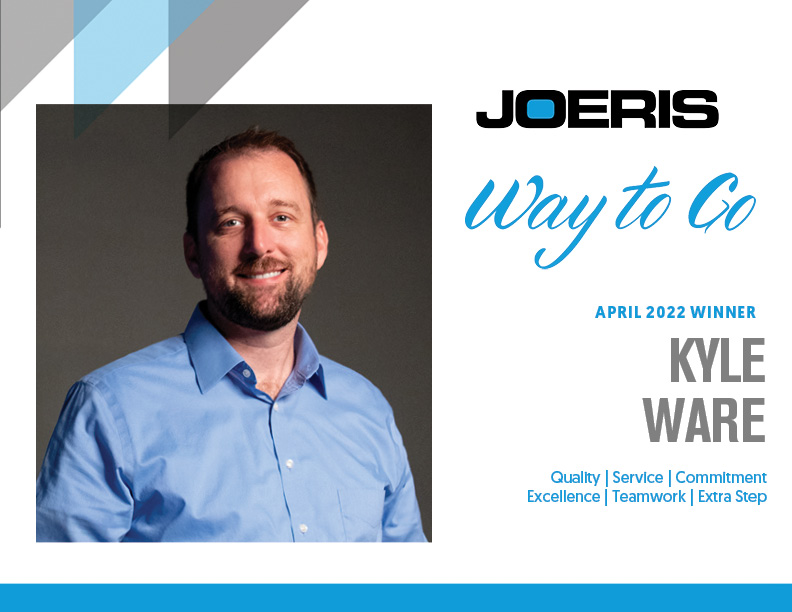 Kyle Ware, Senior Project Manager, is the April Joeris Way to Go Winner!
Congrats Kyle Ware, Senior Project Manager, for receiving April's Joeris Way To Go award! Kyle is recognized by one of his fellow team members for his Excellence, Commitment, and Teamwork. 
Congrats, Kyle! You deserve it.
"Kyle and the entire party planning committee did a great job putting together our 10 year anniversary party. Great good, great drinks, great time. Thanks for all your hard work!"

Kyle Ware nominated by Mariana Flores, Estimator
Joeris Way to Go is our Employee Recognition Program.
Every month, Joeris employees recognize their fellow team members who have gone above and beyond and demonstrated one or more characteristics of The Joeris Way by nominating them for a Joeris Way to Go. At the end of the month, all of the nominations are collected, and one winner is randomly selected during our Friday morning staff meeting.
A round of applause to all of our April Joeris Way to Go nominees!
KYLE SIZIZZOTTI  Nominated by Bryan Zwerneman
HANNAH ECKELS Nominated by Kyle Sirizzotti & Bryan Zwerneman
MATTHEW CAREY Nominated by Callie Ussery
BELINDA MUNIZ Nominated by Monica Huron
MIGUEL DELGADO Nominated by Alex Faoro
JUAN CRUZ Nominated by Bryan Zwerneman
CARL CAVER Nominated by Caleb Weise & Tim Sneed
MAURICIO RIOJAS Nominated by Tim Sneed
JORDEN DIAL Nominated by Mariana Flores
LIZ TREVINO Nominated by Katie Wyatt
MONICA HURON Nominated by Ryan Doege & Belinda Muniz
ERICA TURNER Nominated by Mariana Flores
SCOTT LEE Nominated by Mariana Flores
ALEX FAORO Nominated by Mariana Flores
RICKY MCMAHON Nominated by Ben Sheffer
VICTOR GOMEZ Nominated by Alberto Garza
HAYDEN DWYER Nominated by Bryan Zwerneman
SANDRA DE LEON Nominated by Mariana Flores
KIM BARRETT Nominated by Belinda Muniz
NEIL LEWIS Nominated by Jose Sanchez