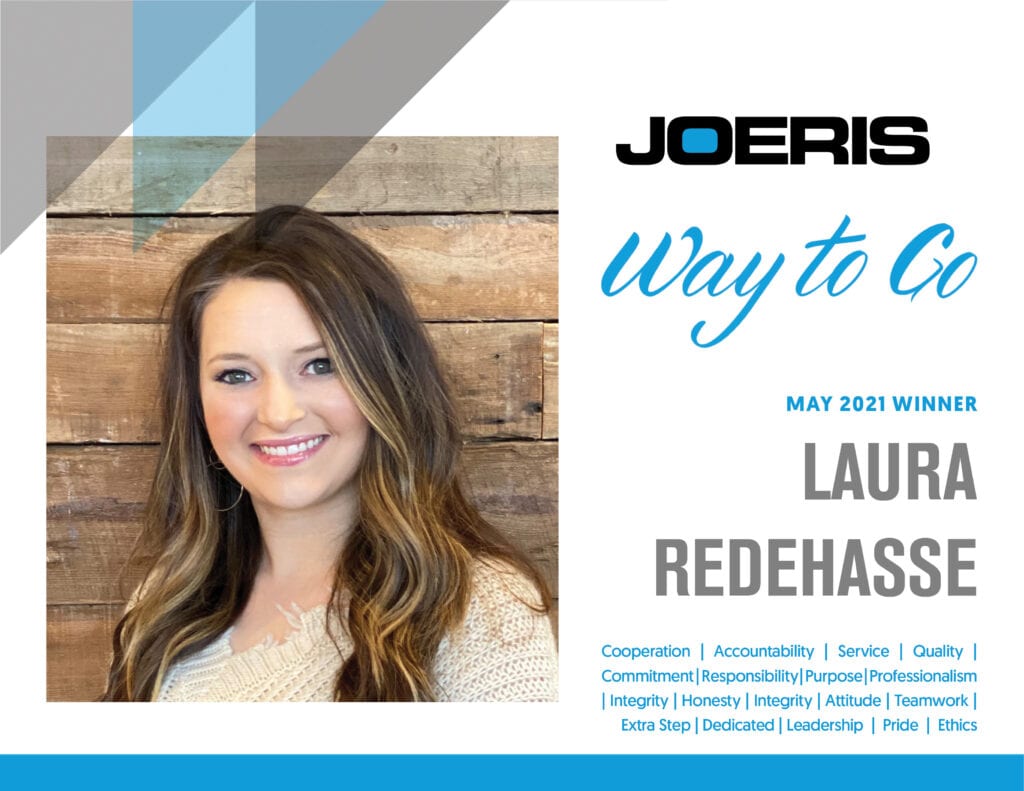 Laura Reddehase, Estimator, is the May Joeris Way to Go Winner!
Congrats Laura Reddehase, Estimator, for receiving May's Joeris Way To Go award! Laura is recognized by one of her fellow team members for her dogged approach to problem-solving.
Congrats, Laura! You deserve it.
Putting in the extra effort when approached with a new challenge. She committed to figuring it out and getting it done.

Laura Reddehase nominated by Tommy Zavesky, Client Development Director
Joeris Way to Go is our Employee Recognition Program.
Every month, Joeris employees recognize their fellow team members who have gone above and beyond and demonstrated one or more characteristics of The Joeris Way by nominating them for a Joeris Way to Go. At the end of the month, all of the nominations are collected, and one winner is randomly selected during our Friday morning staff meeting.
A round of applause to all of our May Joeris Way to Go nominees!
HENRY SERRY nominated by Erica Turner
ASHTON CORDER nominated by Ody Tsoutsos
ERICA TURNER nominated by Brandon Woodbury
HAZAEL MATA nominated by Chase DeHaven
MARIANA FLORES nominated by Eric Roquet
ERIC MARES nominated by Christine Flores
RONALD KING nominated by Christine Flores
KATIE WYATT nominated by Kendal Haegelin
ELLEN WARD nominated by Kendal Haegelin
RANDY MARTIN nominated by Marcos Martinez