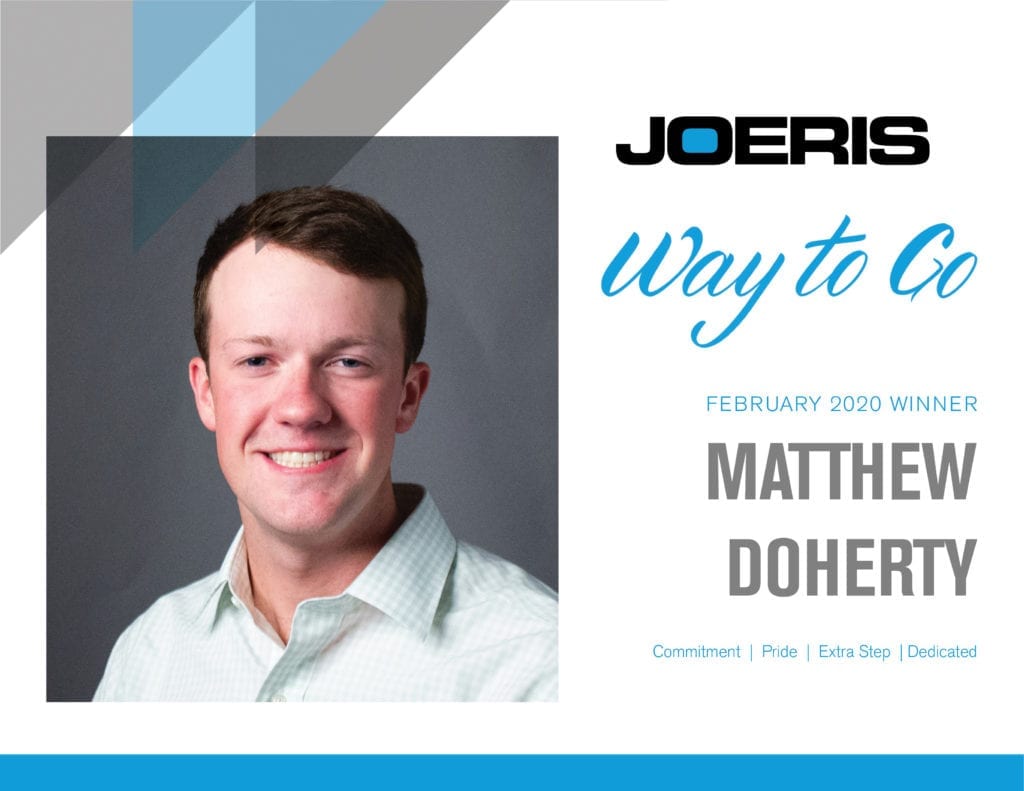 Matt Doherty, Project Engineer, is the February Joeris Way to Go Winner!
Meet Matt Doherty, a project engineer moonlighting as SUPER security is also February's Way To Go Winner! Matt was alerted to a thief onsite one night and safely ensured the criminal's apprehension by police. You are a Joeris Superhero!
Matt works in the San Antonio office. His dedication, commitment, pride in his work, and willingness to go the extra step were all recognized in his nomination. His recent projects include the Broadway Office Development. Congrats, Matt. You're awesome.
Joeris Way to Go is our Employee Recognition Program.
Every month, Joeris employees recognize their fellow team members who have gone above and beyond and demonstrated one or more characteristics of The Joeris Way by nominating them for a Joeris Way to Go. At the end of the month, all of the nominations are collected, and one winner is randomly selected during our Friday morning staff meeting.
A round of applause to all of our February Joeris Way to Go nominees!
Zach Pacioni 2x
Robert Woys 2x
Kenneth Groom
Daniel Olivares 2x
Jesse Lopez
Dan Byrom
Josh Holcomb
Ody Tsoutsos
Grant Hagar
Bruno Castillo
Wilbur Watson
Jason Lewis
Dean Barrett
Jose Sanchez
Adolph Fierros
Ron King
Jim Ruede
Matt Doherty
Kevin Lange
Ruben Martinez
Justin Sinclair
Gary Brayton