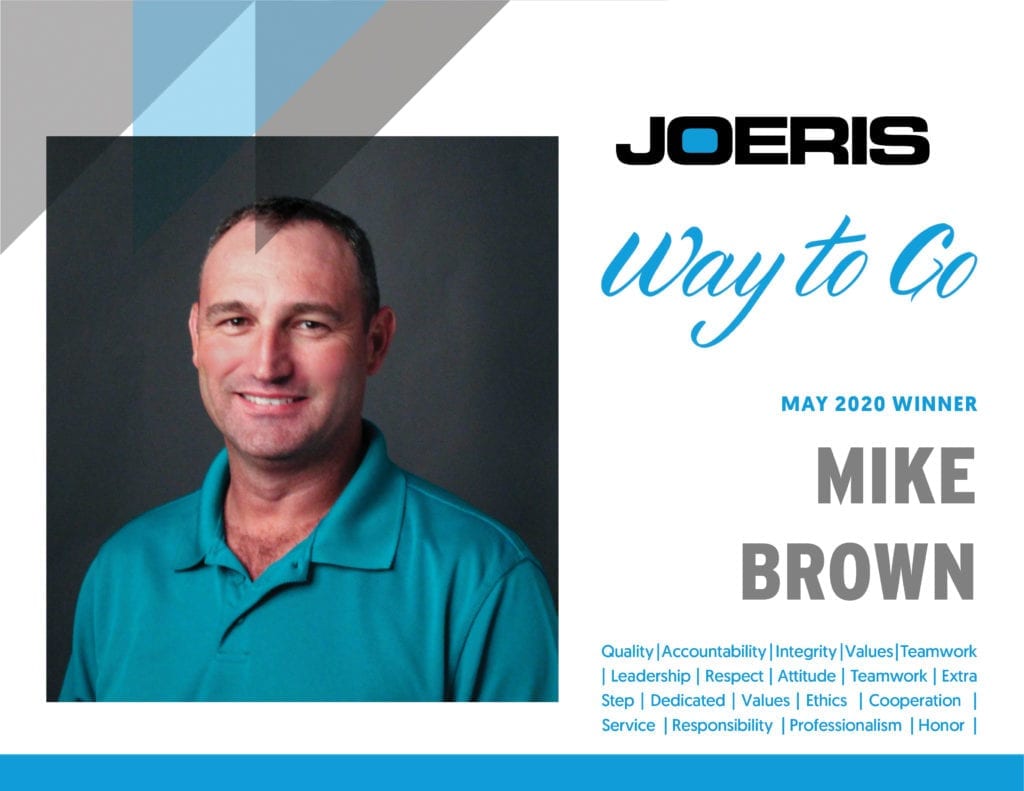 Mike Brown, Superintendent, is the May Joeris Way to Go Winner!
Congrats Mike Brown, Superintendent, for receiving May's Joeris Way To Go award! Mike works in the Houston office and instills the Joeris culture at our newest office. His leadership, character, and dedication make him one of our most valued respected Joeris Family members. He was nominated twice in the month of May.
Mike's recent projects include the IDEA Spears Charter School and a new store for H-E-B Houston #25. Congrats, Mike! You deserve it.
"Mike Brown is a well-rounded Joeris employee. He shows great character and leadership. He's a perfect example of what Joeris needs to be successful."

MIKE BROWN nominated by Andrew Wilson
"Mike Brown is what Joeris is all about."

MIKE BROWN nominated by Dale Nieder
Joeris Way to Go is our Employee Recognition Program.
Every month, Joeris employees recognize their fellow team members who have gone above and beyond and demonstrated one or more characteristics of The Joeris Way by nominating them for a Joeris Way to Go. At the end of the month, all of the nominations are collected, and one winner is randomly selected during our Friday morning staff meeting.
A round of applause to all of our May Joeris Way to Go nominees!
KENNETH GROOM nominated by Alex Faoro
TROY BOLTON nominated by Walt Riske
BELINDA MUNIZ nominated by Julie Delahunt and Kasey Tieken
MIKE BROWN nominated by Andrew Wilson and Dale Nieder
TIM GUILLAUME nominated by Ashton Corder
DEAN MEYER nominated by Rigo Rosas
WES JOHNSTON nominated by John Luis
NATHAN PLAKE nominated by Jason Patterson
JAMES BOOTH nominated by Walte Riske
BYRON GRIMM nominated by Belinda Muniz
NETTY WORKMON nominated by Belinda Muniz
CHRISTINA RAMIREZ nominated by Belinda Muniz
CONNOR KAUFMANN nominated by Belinda Muniz
ROSE GARCIA nominated by Selena Horn