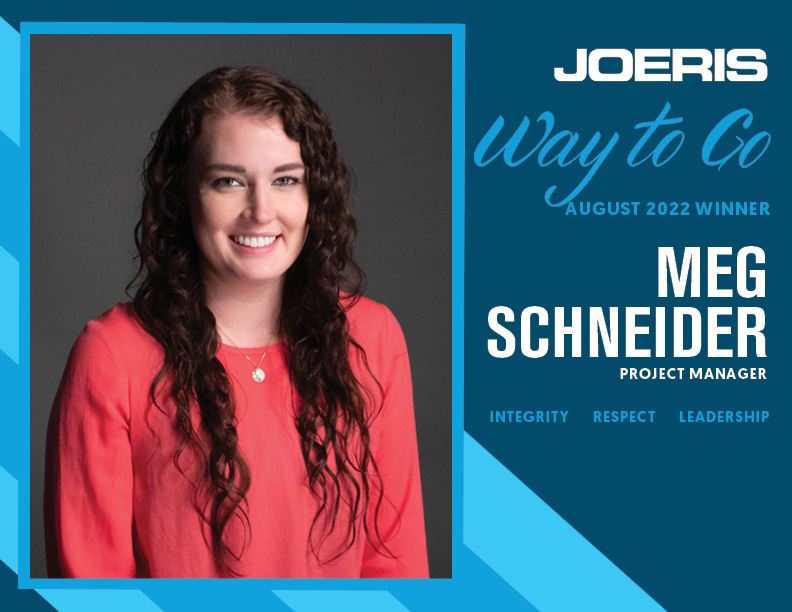 Meg Schneider is the August Joeris Way to Go Winner!
This month's Joeris Way To Go Winner has been chosen! Meg Schneider, Project Manager, is recognized by one of her fellow team members for her attributes of Integrity, Respect, and Leadership. Meg started as an Intern here at Joeris and quickly climbed her way to Project Manager extraordinaire in less than 7 years. Meg is a go-getter, organized, and puts forth her best every day.
Congratulations on winning August's Joeris Way to Go, Meg!
"Meg has taken a lead role in ensuring completion for Casis Elementary School warranty issues. She has made the conscious effort to fully document and log issues that were brought up during the Phase One 11-Month Warranty Walk and has been a key partner in maintaining and developing Joeris' relationship with Austin ISD."

Meg Schneider Nominated by Justin Sinclair, Warranty Manager
Joeris Way to Go is our Employee Recognition Program.
Every month, Joeris employees recognize their fellow team members who have gone above and beyond and demonstrated one or more characteristics of The Joeris Way by nominating them for a Joeris Way to Go. During Joeris' end-of-the-month Friday Staff Meetings, all nominations from our people are collected as one person will be randomly selected as the Joeris Way to Go Winner.
A round of applause to all of our August Joeris Way to Go nominees!
MIGUEL DELGADO Nominated by Alex Faoro
BARRET STILLINGS Nominated by Mariana Flores and Erica Turner
DYLAN WELCH Nominated by Mariana Flores
KYLE FLETCHER Nominated by Mariana Flores
JOSHUA HANSON Nominated by Sandra DeLeon
ALLISON SORRELLS Nominated by Mariana Flores
BRANDON REEVES Nominated by Kyle Fletcher
MARIANA FLORES Nominated by Sandra DeLeon and Allison Sorrells
ZEKE WILLIAMS Nominated by Dean Womble
BRANDON WOODBURY Nominated by Sandra DeLeon
ALEX FAORO Nominated by Sandra DeLeon
JACKSON TRANTHAM Nominated by Dean Womble and Brandon Reeves
ARTEMIO LOPEZ Nominated by Carl Caver
JOSE LUIS HERNANDEZ Nominated by Lori Peery
MICHAEL CAVAZOS Nominated by Lori Peery
BRANDON RAMON Nominated by Lori Peery
COREY DAHLGREN Nominated by Lori Peery
ADOLPH FIERROS Nominated by Dean Womble
BEN LAWRENCE Nominated by Dean Womble
FELIPE CASTILLO Nominated by Dean Womble
REBEKAH GRAHAM Nominated by Christine Laskowski
MATTHEW LINDSAY Nominated by Charles Forehand
MARCOS GARZA Nominated by Charles Forehand
SANDRA DE LEON Nominated by Erica Turner
ROBERT PARKER Nominated by Charles Forehand
SPENCER ANTHONY Nominated by Dean Womble
BELINDA MUNIZ Nominated by Mauricio Riojas
JOY JARAMILLO Nominated by Allison Sorrells
ROY THAYER Nominated by Chris Ellender
DEAN WOMBLE Nominated by David Salinas
TANYA KNOX Nominated by Sandra DeLeon
GLEN RICKS Nominated by Sandra DeLeon