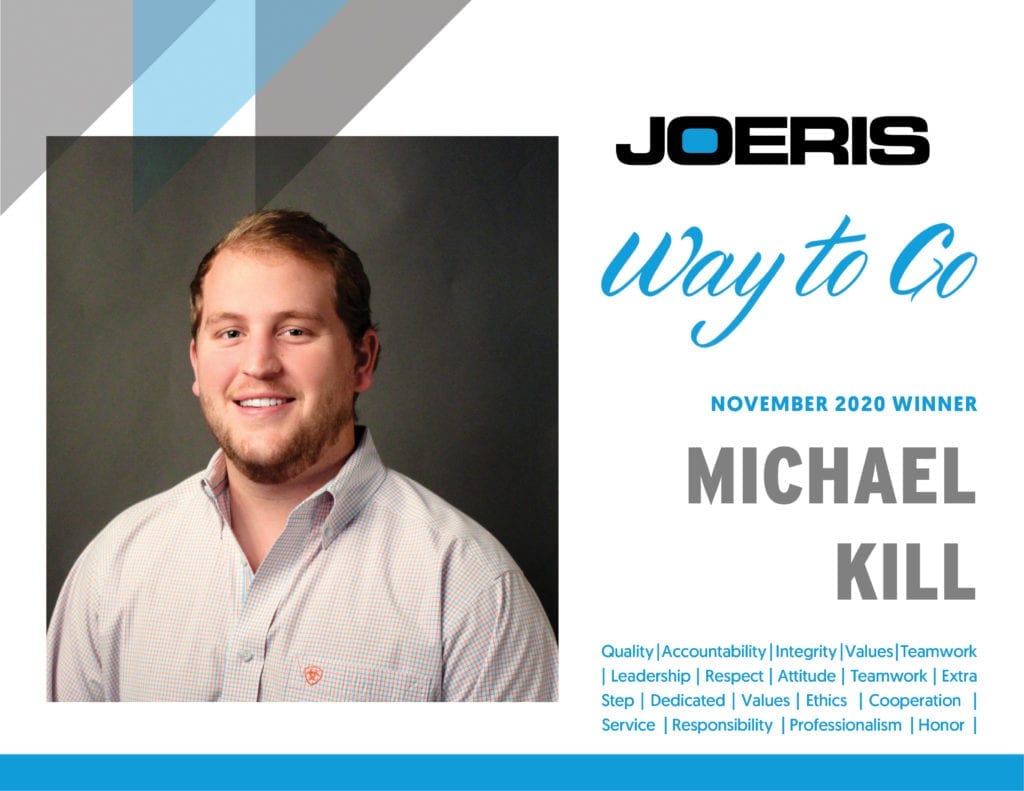 Michael Kill, Assistant Project Engineer, is the November Joeris Way to Go Winner!
Congrats Michael Kill, Assistant Project Engineer, for receiving November's Joeris Way To Go award! Michael's dependability, integrity and leadership make him an incredible team member.
Congrats, Michael! You deserve it.
Michael Kill can always be depended on in any situation. He takes the lead and does whatever it takes to accomplish every task, especially the tough ones.

MICHAEL KILL nominated by Jared Swinney, Assistant Superintendent
Joeris Way to Go is our Employee Recognition Program.
Every month, Joeris employees recognize their fellow team members who have gone above and beyond and demonstrated one or more characteristics of The Joeris Way by nominating them for a Joeris Way to Go. At the end of the month, all of the nominations are collected, and one winner is randomly selected during our Friday morning staff meeting.
A round of applause to all of our November Joeris Way to Go nominees!
SHANNON SHIPLEY nominated by Larry Nelson
JUAN GUIIJOSA nominated by Aaron Kuhl
ROBERT WOYS nominated by Aaron Kuhl
ESMERALDA ROSAS nominated by Kyle Fletcher
CARLOS GARZA nominated by Lori Peery
HAYDEN DWYER nominated by Kyle Sirizzotti
HERBERT FOSTER nominated by Ancle Davis
TIM SNEED nominated by Kyle Sirizzotti
ANDI GALLOWAY nominated by Lori Peery
JUAN GUIJOSA nominated by Robert Woys
MICHAEL KILL nominated by Jared Swinney
ANDI GALLOWAY nominated by Ellen Ward
ZACHARY BRYSON nominated by Lori Peery