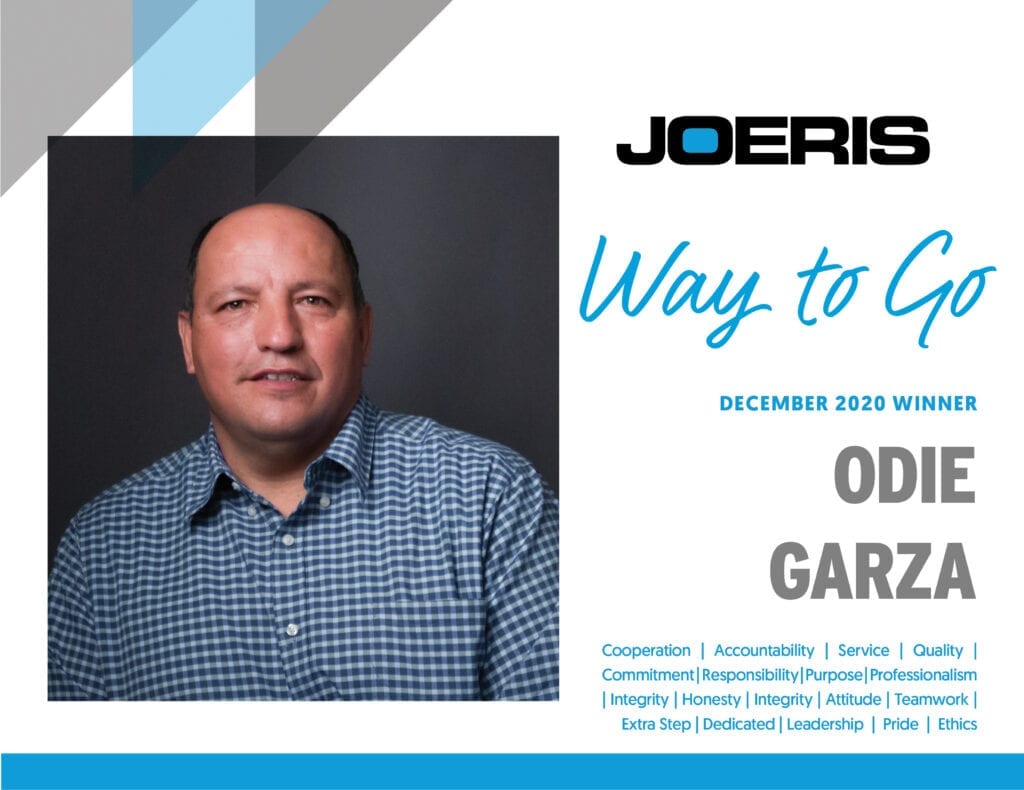 Odie Garza, Superintendent, is the December Joeris Way to Go Winner!
Congrats Odie Garza, Superintendent, for receiving December's Joeris Way To Go award! Odie's collaboration, work ethic and communication make him an incredible team member.
Congrats, Odie! You deserve it.
Odie has been a true testament of The Joeris Way. His dedication to the project has allowed the team to overcome a nine day delay and finish on-time and before Thanksgiving. His collaborative mindset and effective communication has played a large role in expediting the parking lot phasing while keeping the development fully operational. It has been a true pleasure working alongside Odie!

ODIE GARZA nominated by Kyle Sirizzotti, Project Manager
Joeris Way to Go is our Employee Recognition Program.
Every month, Joeris employees recognize their fellow team members who have gone above and beyond and demonstrated one or more characteristics of The Joeris Way by nominating them for a Joeris Way to Go. At the end of the month, all of the nominations are collected, and one winner is randomly selected during our Friday morning staff meeting.
A round of applause to all of our December Joeris Way to Go nominees!
MATTHEW DOHERTY nominated by Kevin Lange
MATT DUNN nominated by Kevin Lange
KIM BRATCHER nominated by Belinda Muniz
ERICA TURNER nominated by Brandon Woodbury
MYRA SCHWARTZ nominated by Ancle Davis
MARK MATTHEWS nominated by Matt Dunn
ANDREW PITCHER  nominated by Monica Huron
MIMI CUNY nominated by Kasey Tieken
VICTOR GOMEZ nominated by Kasey Tieken
CHAD DWARSHUS nominated by Kasey Tieken
MELISSA BRIGHT nominated by Ody Tsoutsos
MARIANA FLORES nominated by Robert Woys
ALEX CHOW nominated by Robert Woys
GREGOR IGLER nominated by Robert Woys
JUAN GUIJOSA nominated by Robert Woys
DARRY SMITH nominated by Cathy Mostella