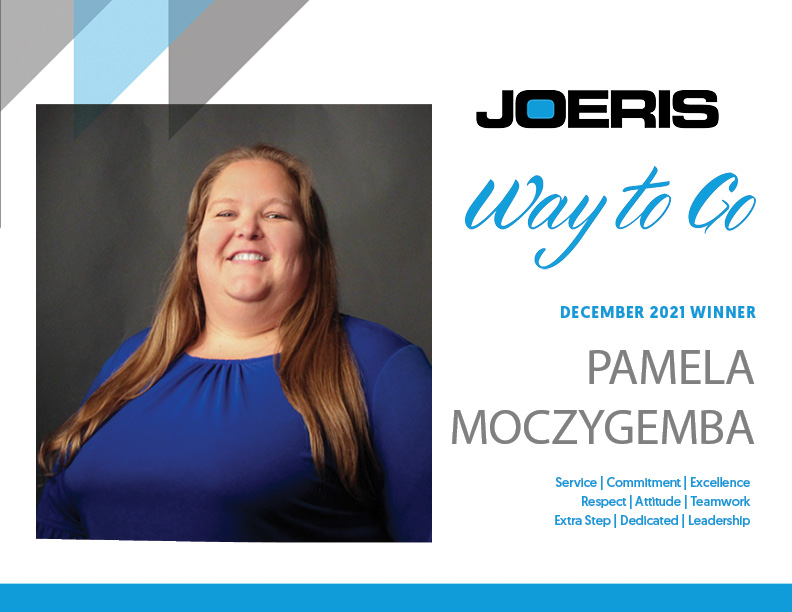 Pamela Moczygemba, Senior Project Manager, is the December Joeris Way to Go Winner!
Congrats Pamela Moczygemba, Senior Project Manager, for receiving December's Joeris Way To Go award! Pamela is recognized by one of her fellow team members for her dedication, leadership, and excellence.
Congrats, Pamela! You deserve it.
Over the past few Over the past few months Pam has showed me what an amazing mentor she is. She has gone above what was asked of her to dedicate her time to our project team. Her financial knowledge of the project is an inspiration of something to achieve within all project management levels. I am truly thankful for the training I was given that helps me provide more assistance to my team.

Pamela Moczygemba nominated by Tanya Knox, Project Manager Assistant
Joeris Way to Go is our Employee Recognition Program.
Every month, Joeris employees recognize their fellow team members who have gone above and beyond and demonstrated one or more characteristics of The Joeris Way by nominating them for a Joeris Way to Go. At the end of the month, all of the nominations are collected, and one winner is randomly selected during our Friday morning staff meeting.
A round of applause to all of our December Joeris Way to Go nominees!
ASHTON CORDER Nominated by James Jimenez
DEBBIE SCOTT Nominated by Zach Wernette
KATIE WYATT Nominated by Monica Huron
KENDAL HAEGELIN Nominated by Monica Huron
MEG SCHNEIDER Nominated by Ashton Corder
ERICA TURNER Nominated by Sandra De Leon
DANIEL OLIVARES Nominated by Sandra De Leon
HAYDEN DWYER Nominated by Kyle Sirizzotti
DARRY SMITH Nominated by Wayne LaFlamme
SANDRA DE LEON Nominated by Mariana Flores
ERICA TURNER Nominated by Mariana Flores
DAX PRIDDY Nominated by Grant Hagar
ZACH STEINBACH Nominated by Grant Hagar
BRUNO CASTILLO Nominated by Meg Schneider
BELINDA MUNIZ Nominated by Alex Trevino, Eric Fletcher, Eric Woodring, Drew Godwin, and Norah Wilkinson
TRAVIS VERSTUYFT Nominated by John Keenan
GRAHAM TIDWELL Nominated by Kyle Sirizzotti
CHRISTINA RAMIREZ Nominated by Kasey Tieken
TRAVIS BONE Nominated by Kasey Tieken
ANDI GALLOWAY Nominated by Ellen Ward
KATEY SHEA Nominated by Ellen Ward
SELENA HORN Nominated by Ellen Ward
ERIC LYON Nominated by Bruno Castillo