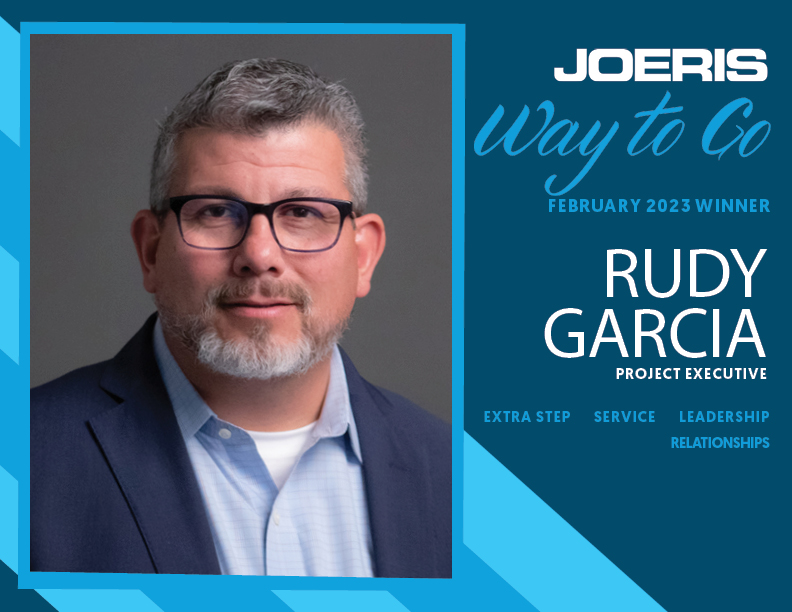 Rudy Garcia is the February Joeris Way to Go Winner!
February's Joeris Way To Go Winner has been chosen! Rudy Garcia, Project Executive, is recognized by one of his fellow team members for his attributes of Service, Relationships, Leadership, and Extra Step. Rudy joined the Joeris family in April 2022 and quickly exemplified the Joeris team culture. Thank you, Rudy, for being a great team player and going above and beyond in everything you do.
Congratulations on winning February's Joeris Way to Go, Rudy!
"Rudy came in on a Saturday and stayed the majority of the day until we received the FedEx delivery for one of our partners, who was having some hard times and was afraid he would not make payroll if he did not receive this check by the weekend. Rudy communicated with him and made sure he was available so that our partner could receive his check. I appreciate people who go the extra mile to help others even when it may change your plans for the day. Always about helping each other. Thanks, Rudy, for making sure our partner was taken care of."

Rudy Garcia Nominated by Erica Turner, Manager, Project Administration
Joeris Way to Go is our Employee Recognition Program.
Every month, Joeris employees recognize their fellow team members who have gone above and beyond and demonstrated one or more characteristics of The Joeris Way by nominating them for a Joeris Way to Go. During Joeris' end-of-the-month Friday Staff Meetings, all nominations from our people are collected, and one person will be randomly selected as the Joeris Way to Go Winner.
A round of applause to all of our February Joeris Way to Go nominees!
JACKSON TRANTHAM Nominated by David Salinas
GRANT HAGER Nominated by Charles Forehand
RAY BELL Nominated by Charles Forehand
BEKA GRAHAM Nominated by Zac Robles
ERICA TURNER Nominated by Brandon Woodbury
BRANDON REEVES Nominated by Dean Womble
JONATHAN FUENTES Nominated by Dean Womble
AARON KUHL Nominated by Brandon Reeves
HUMBERTO FARFAN Nominated by Katie Wyatt
BRANDON HARRIS Nominated by Kasey Tieken and NettyWorkmon
JOSE SANCHEZ Nominated by Sysun Howell and Dan Byrom
MARK LEGROS Nominated by Erica Turner
DEMIAN WHITWORTH Nominated by Erica Turner
DEBBIE SCOTT Nominated by Erica Turner
NETTY WORKMON Nominated by Erica Turner
SCOTT LEE Nominated by Erica Turner and Aaron Kuhl
CHRISTINE LASKOWSKI Nominated by Bruno Castillo
VINCE ZIEGLER Nominated by Bruno Castillo
KATIE WYATT Nominated by Travis Bone
CHRIS EYHORN Nominated by Jordan Eiden and Matt Dunn
MIKE SMITH Nominated by Bruno Castillo