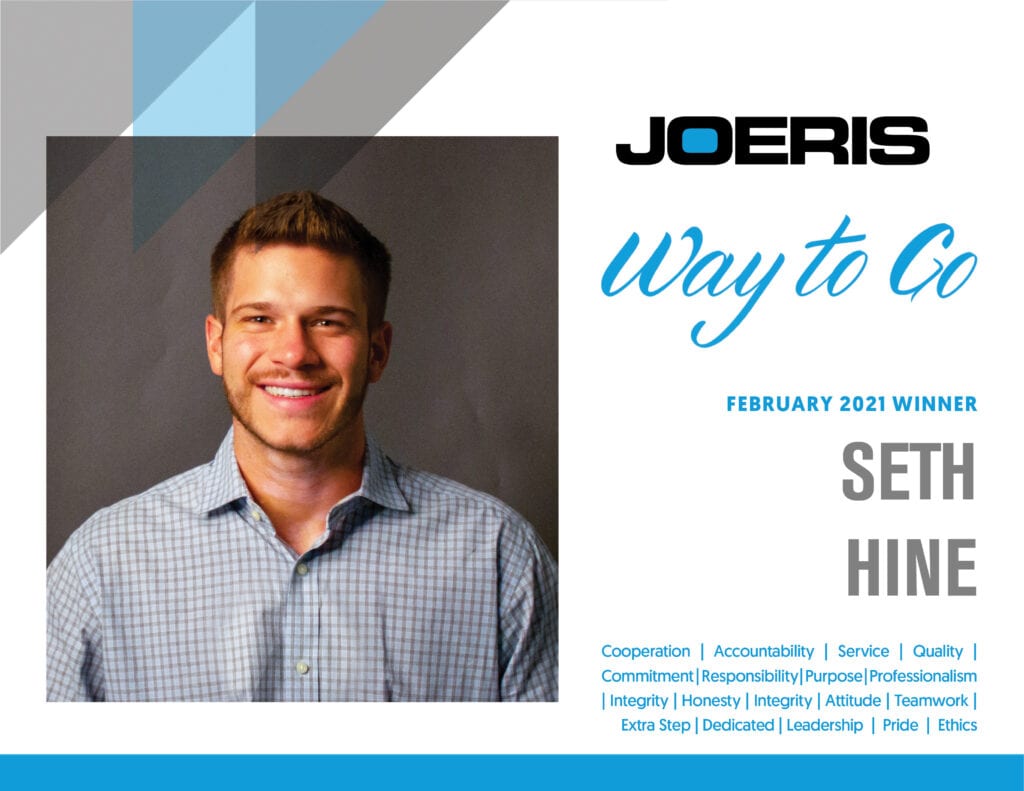 Seth Hine, Project Engineer, is the February Joeris Way to Go Winner!
Estimated reading time: 2 minutes
Congrats Seth Hine, Project Engineer, for receiving February's Joeris Way To Go award! Seth's dedication and commitment to his team make him worthy of this recognition!
Congrats, Seth! You deserve it.
Seth has taken over the role of a APM / PM on the project we are currently running. It is my belief that Seth has not only stepped up to the challenge of the position, but has excelled at it. His dedication and diligence to his role have proven to be beneficial factors for the project. On top of going beyond what is asked or required of him; he is always on time, stays late, and works weekends, if needed, without complaint.

SETH HINE nominated by Baggio Lozano, Superintendent
Joeris Way to Go is our Employee Recognition Program.
Every month, Joeris employees recognize their fellow team members who have gone above and beyond and demonstrated one or more characteristics of The Joeris Way by nominating them for a Joeris Way to Go. At the end of the month, all of the nominations are collected, and one winner is randomly selected during our Friday morning staff meeting.
A round of applause to all of our February Joeris Way to Go nominees!
SELENA MARQUEZ HORN nominated by Kayla Choate
JAMES JIMENEZ nominated by Erica Turner
RONALD KING nominated by Julie Delahunt
BELINDA MUNIZ nominated by Kyle Sirizzotti
MEG SCHNEIDER nominated by Grant Hagar
STEPHEN TELTOW nominated by Grant Hagar
BRANDON RAMON nominated by Lori Peery
PATTY MORENO nominated by Julie Delahunt
CHAD DWARSHUS nominated by Selena Marquez Horn
CODY MAY nominated by Alex Chow
BRANDON WOODBURY nominated by Alex Chow
KYLE WARE nominated by Alex Chow
MARIANA FLORES nominated by Alex Chow
DAN BYROM nominated by Selena Marquez Horn