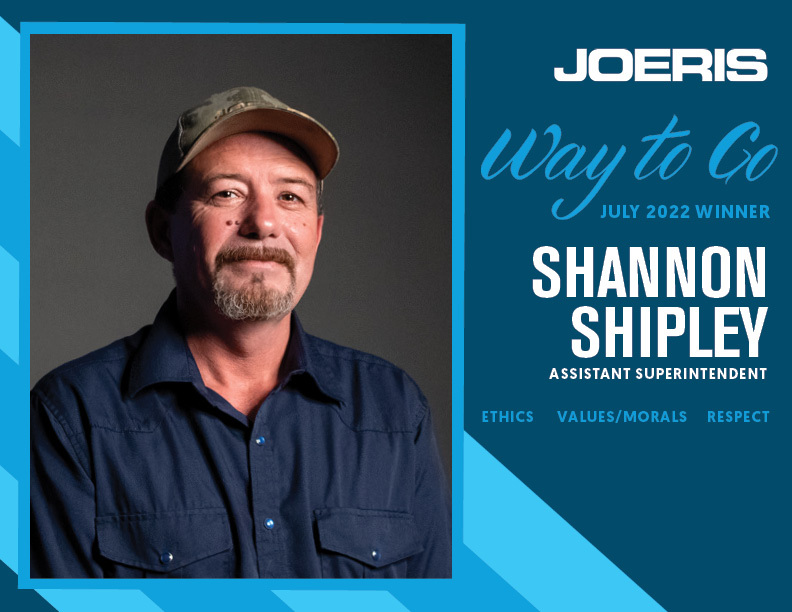 Shannon Shipley is the July Joeris Way to Go Winner!
This month's Joeris Way To Go Winner has been chosen! Shannon Shipley, Assistant Superintendent, is recognized by one of his fellow team members for his attributes of Integrity, Respect, and Gratitude. Shannon brings a great team player attitude everywhere he goes and is a fantastic go-getter.
Congratulations on winning July's Joeris Way to Go, Shannon!
"Shannon Shipley has been on nights for three years working on the retail remodels. He has taken the 'bull by the horns' specifically with the Central Market Plano remodel. I don't believe there's any better of Superintendent that could've taken on this beast, deliver the expectations Central Market demands each morning, and still been productive each night. We are in eleven different departments/areas at one time. Making sure they are clean, useable, and the least amount of hindrance to day operations as well as customer perspective is vital. Shannon excels at getting it there. A much-deserved appreciation is in order."

Shannon Shipley nominated by Ben Lawrence, Superintendent
Joeris Way to Go is our Employee Recognition Program.
Every month, Joeris employees recognize their fellow team members who have gone above and beyond and demonstrated one or more characteristics of The Joeris Way by nominating them for a Joeris Way to Go. During Joeris' end-of-the-month Friday Staff Meetings, all nominations from our people are collected as one person will be randomly selected as the Joeris Way to Go Winner.
A round of applause to all of our July Joeris Way to Go nominees!
BYRON GRIMM Nominated by Victoria Johnson
JOSHUA HANSON Nominated by Jonathan Fuentes
BROOKS BUTLER Nominated by David Grote
BRANDON REEVES Nominated by Dean Womble
TYLER HIRSCH Nominated by Janet Dusek
ODY TSOUTSOS Nominated by Eric Mares
JACOB MARTIN Nominated by David Grote
ALBERT VAZQUEZ Nominated by Gilbert Rodriguez
JASMIN SAUCEDO Nominated by Traivs Bone
MARK EDDY Nominated by Tim Sneed & Juan Guijosa
BRANDON RAMON Nominated by Lori Peery