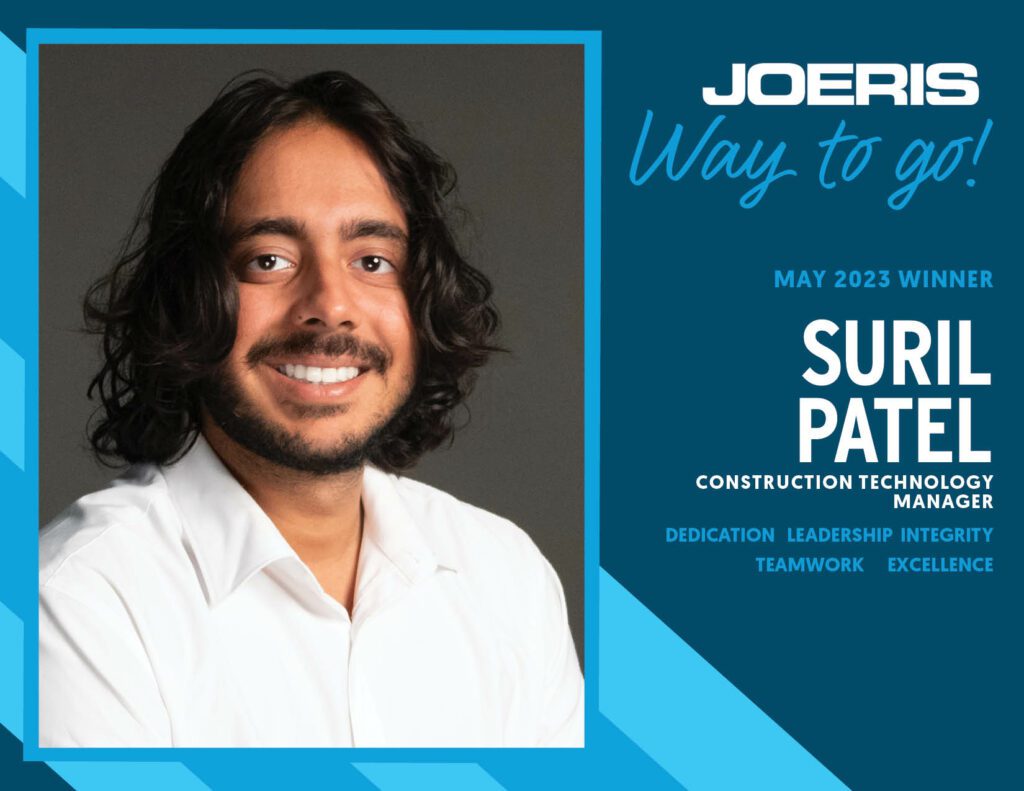 Suril Patel is the May Joeris Way to Go Winner!
Our May Joeris Way To Go Winner has been chosen! Construction Technology Manager Suril Patel was recognized by one of his fellow team members for his attributes of Teamwork, Dedication, Integrity, Leadership, and Excellence.
Congratulations on winning May's Joeris Way to Go, Suril!
"When the CT team was temporarily reduced by one member, Suril did not hesitate to step up to help lead and keep the projects going. As we transitioned in a new team member, we never missed a beat thanks to Suril's effort in leading the remote team and tracking all of the work on ongoing projects. BIG Thanks to Suril for his dedication to project success!"

Suril Patel Nominated by Lori Perry, Director of Construction Technology
Joeris Way to Go is our Employee Recognition Program.
Every month, Joeris employees recognize their fellow team members who have gone above and beyond and demonstrated one or more characteristics of The Joeris Way by nominating them for a Joeris Way to Go. During Joeris' end-of-the-month Friday Staff Meetings, all nominations from our people are collected, and one person will be randomly selected as the Joeris Way to Go Winner.
A round of applause to our May Joeris Way to Go nominees!
JONATHAN FUENTES Nominated by Barret Stillings 
SCOTT LEE Nominated by Jonathan Fuentes
JONATHAN FUENTES Nominated by Aaron Kuhl
SHANNON SHIPLEY Nominated by Caleb Weise
WALKER HORMUTH Nominated by William Arnold
KENNETH GROOM Nominated by Larry Nelson
BRANDON REEVES Nominated by Jonathan Fuentes
ASHTON ROBINSON Nominated by Christine Laskowski
JERRY MAYNARD Nominated by Charles Forehand
ERIC MARES Nominated by Charles Foreman
CLAYTON DETTEN Nominated by Carl Caver