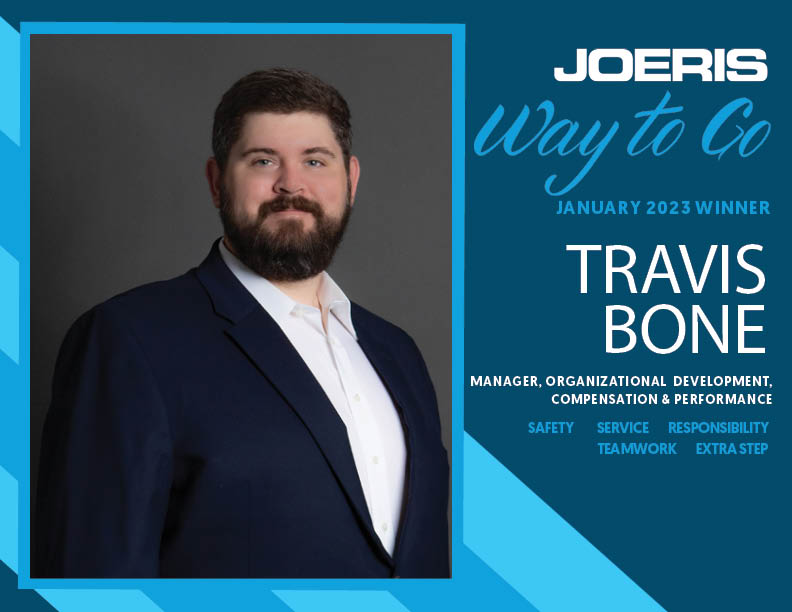 Travis Bone is the January Joeris Way to Go Winner!
January's Joeris Way To Go Winner has been chosen! Travis Bone, Manager, Organizational Development, Compensation & Performance, is recognized by one of his fellow team members for his attributes of Safety, Service, Responsibility, Teamwork, and, Extra Step. Travis is never scared to roll up his sleeves and help his team. Thank you, Travis for all you do.
Congratulations on winning January's Joeris Way to Go, Travis!
"Travis was off to check on his rescue dog, Peanut, when he noticed a puddle of water trailing from the men's restroom. After investigating the origin of the leak, Travis took a light swim, then quickly notified Ashton Corder and our valiant head custodian, Romeo. As fast as lightning, Travis raced to his truck to obtain tools to turn off the water outside the building and in the warehouse, fighting off scorpions, fire ants, and Rats of Unusual Size. Through sweat, tears, and some heavy breathing, Travis continued to squeegee (potentially contaminated) water until his shoes were completely soaked, but he never faltered. Thank you, Travis, for finding and reporting this time sensitive issue. Without you, Joeris San Antonio would be the newest location for Schlitterbahn parks."

Travis Bone Nominated by Katie Wyatt, Human Resources Generalist II
Joeris Way to Go is our Employee Recognition Program.
Every month, Joeris employees recognize their fellow team members who have gone above and beyond and demonstrated one or more characteristics of The Joeris Way by nominating them for a Joeris Way to Go. During Joeris' end-of-the-month Friday Staff Meetings, all nominations from our people are collected, and one person will be randomly selected as the Joeris Way to Go Winner.
A round of applause to all of our January Joeris Way to Go nominees!
JUSTIN SINCLAIR Nominated by Kasey Tieken
GARY BRAYTON Nominated by Justin Sinclair
ASHTON CORDER Nominated by Travis Bone 
JASMIN SAUCEDO Nominated by Travis Bone
SAMANTHA DOMINGUEZ Nominated by Travis Bone
SELENA HORN Nominated by Brian Baker
MIKE PRESTON Nominated by Mike Ramirez
BYRON GRIMM Nominated by Michael Kill
BRANDON REEVES Nominated by Dean Womble
JONATHAN FUENTES Nominated by Dean Womble
MIKE PRESTON Nominated by Megan Siever
ZACH BRYSON Nominated by Aaron Kuhl
JAY CASTILLO Nominated by Jeb Jennings
ANDREW WILSON Nominated by Gilbert Rodriguez
AARON KUHL Nominated by Logan Davenport