Author: Kayla Choate, Marketing Communications Specialist
Graphics: Katey Shea, Marketing Coordinator
This is part four of a four-part series of posts aimed to provide other marketers with insights for safely and successfully navigating construction industry changes resulting from the pandemic.
Planning for a jobsite event, such as a groundbreaking or topping out, requires a lot of communication and coordination with the project team and client. The safety of all onsite is paramount and this is even more so during a pandemic.
Special considerations to in-person jobsite events must take into account the local city's and governor's proclamations of social distancing and health and hygiene protocols, including the wearing of face masks. Keep abreast of the most current city ordinances and communicate those clearly and often to your client. Make sure you and your client are both on the same page regarding the understanding of the proclamation and how that will be enacted and enforced during the event.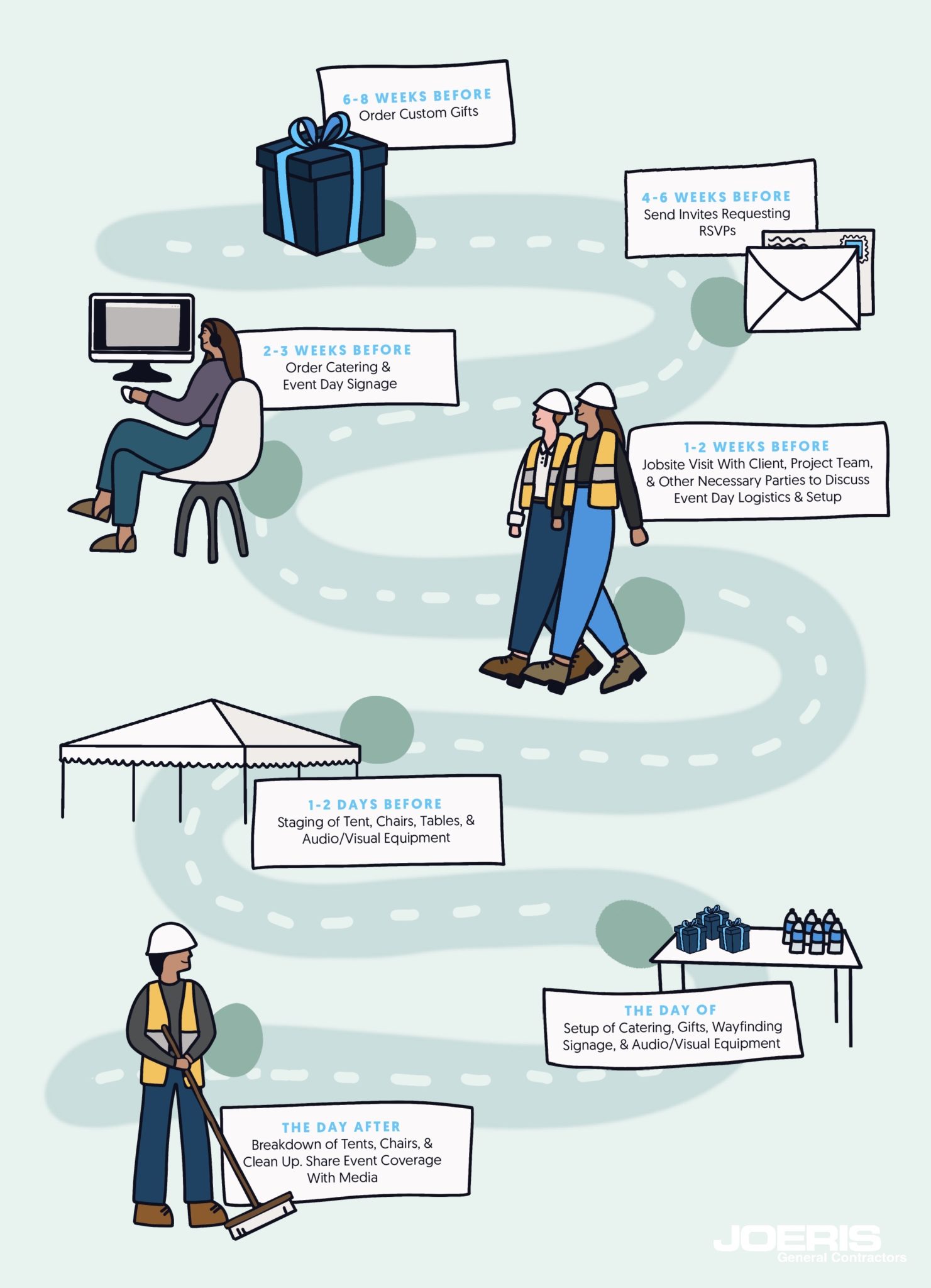 LIMITING JOBSITE VISITORS
Cull the guest list for the event to those who are a "need to attend." This includes the media. Host a private event and share videos and photos of the event on social media and with news outlets afterwards. Create an invitation to the event, request RSVPs, and communicate to attendees that social distancing and the wearing of face masks are required. Prep them beforehand of any other health and hygiene protocols that are put in place, such as temperature checks and/or pre-screening done before entering the site.
EVENT SETUP
If the event will be staged, keep chairs the necessary distance apart from one another. In most jobsite events, such as a groundbreaking, the general contractor can provide hard hats and shovels. Have the exact number needed or provide sanitizer to wipe them down if they will be shared. For a groundbreaking, request the general contractor to provide a long enough pile of dirt for the ceremonial "turning of the dirt," to accommodate social distancing. And, of course, ensure access to hand-washing stations, restrooms, and hand sanitizer for all.
VENDORS
During a pandemic, supply chains for most businesses are impacted in some way. Resource scarcity will be a factor when planning an event. Whether your preferred vendors are lacking materials, staff, or both, securing items such as catering and gift items can pose a challenge.
Food Vendors
Strongly urge clients to not provide foods or limit foods and drinks to pre-packaged, single-serve packages and bottled or canned drinks. Know these items could be difficult to procure if restaurants and catering companies have shut down and local supermarkets have seen a rush on goods.
Custom Gifts
Standard ordering of custom gifts, outside a pandemic, is typically six to eight weeks. During a pandemic, custom gifts, such as engraved shovels or hard hats, can take much longer or possibly be unavailable if businesses have shut down. Costs for gifts may also increase drastically because businesses are struggling with securing inventory.
Media Publicity
All publicity is not good publicity, especially if a jobsite event makes headline news for all the wrong reasons. Brand reputation can be tarnished if a video and/or photo of a jobsite event during a pandemic shows a lack of preventative safety measures. All photos and videos of the event, including those shared by guests to their personal social media accounts, must show a concerted effort of enforcing social distancing, face masks, and other required health and hygiene directives.
It is absolutely critical that all stakeholders are in united agreement about adhering to these measures. A construction site is covered in branding, from the names and logos of the general contractor, architect, engineers and major trades to the developer and client's names and logos. It would only take one picture or video showing lack of adherence to pandemic protocols to negatively impact multiple firms' brand image.
This is part four of a four-part series of posts aimed to provide other marketers with insights for safely and successfully navigating construction industry changes resulting from the pandemic.