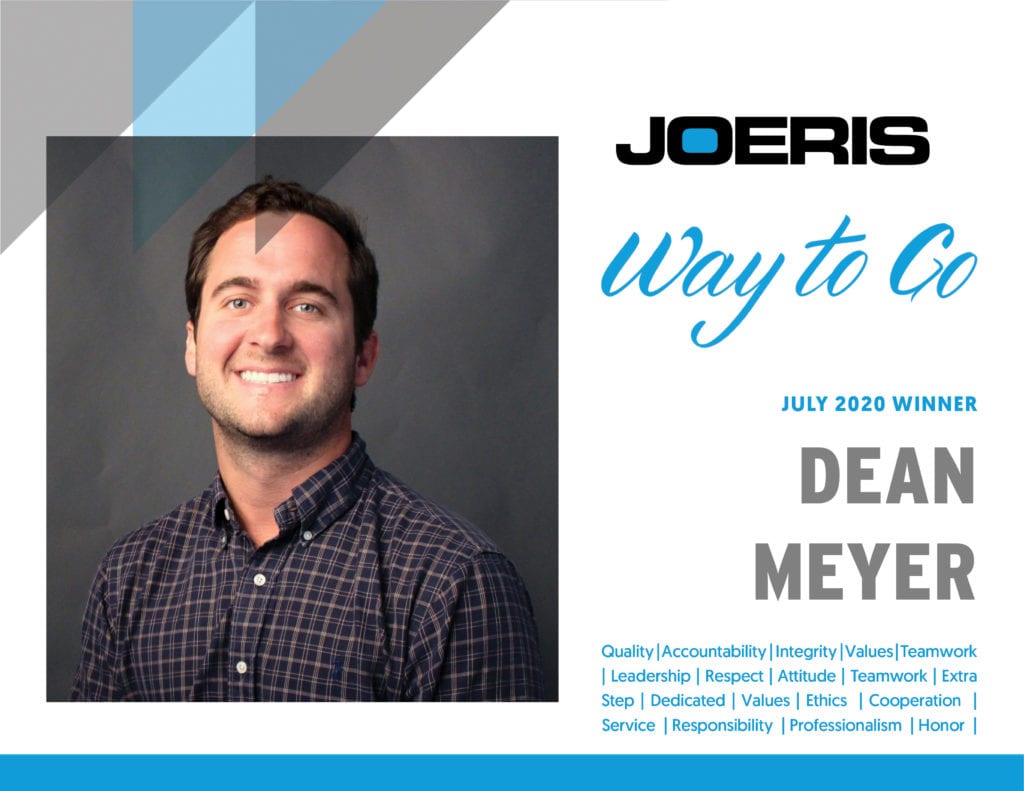 Dean Meyer, Assistant Superintendent, is the July Joeris Way to Go Winner!
Congrats Dean Meyer, Assistant Superintendent, for receiving July's Joeris Way To Go award! His integrity, teamwork, leadership skills, attitude, and professionalism are just some of the many reasons he is a valued and respected Joeris Family member.
Dean works in the San Antonio office. His recent projects include the Tobin Center Parking Garage and the new NEISD District CTE Center.
Congrats, Dean! You deserve it.
Dean is a good example of the Joeris way.

DEAN MEYER nominated by Rigoberto Rosas
Joeris Way to Go is our Employee Recognition Program.
Every month, Joeris employees recognize their fellow team members who have gone above and beyond and demonstrated one or more characteristics of The Joeris Way by nominating them for a Joeris Way to Go. At the end of the month, all of the nominations are collected, and one winner is randomly selected during our Friday morning staff meeting.
A round of applause to all of our July Joeris Way to Go nominees!
ALEX CHOW nominated by Mariana Flores
TIMOTHY SNEED nominated by Mariana Flores
TANYA KNOX nominated by Belinda Muniz
DANIEL OLIVARES nominated by James Jimenez
JUSTIN BENDELE nominated by Kayla Choate
NETTY WORKMON nominated by Belinda Muniz
CHRISTINA RAMIREZ nominated by Belinda Muniz
MONICA HURON nominated by Ellen Ward
LORI PEERY nominated by Andy Gajbhiye
MITCHEL EVANS nominated by Andy Gajbhiye
SELENA MARQUEZ HORN nominated by Kayla Choate
ANDREW PITCHER nominated by Ellen Ward
BRANDON RAMON nominated by Lori Peery
PABLO ROBERTO RUIZ DIAZ nominated by John Barney
DEAN MEYER nominated by Rigoberto Rosas
LUIS ROQUE nominated by Rigoberto Rosas
REYMUNDO CRUZ nominated by Rigoberto Rosas
ISMAEL CERVANTES CASTELLANOS nominated by Rigoberto Rosas
JACOB MARTIN nominated by Chase DeHaven
BRIAN BAKER nominated by Kayla Choate
RHODY BAKER nominated by Chase DeHaven
JERRY MENDOZA nominated by Brian Baker